2018 NAPIBOWRIWEE DAY 1 – Meet Guest Author Helena Ku Rhee!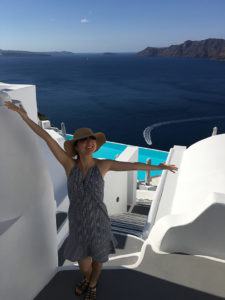 WELCOME TO DAY ONE OF THE 2018 NATIONAL PICTURE BOOK WRITING WEEK EVENT!
Hello, my NAPIBOWRIWEE participants! Welcome back! I hope you are excited for this year's event where we will attempt to write 7 picture books in 7 days! Can you believe this is our TENTH ANNIVERSARY? Woo hoo! 🙂
NUTS & BOLTS: This is a quick list describing how this week works!
Goal: To write 7 picture books in 7 days. All drafts must be COMPLETELY FINISHED. Half-finished or work-in-progress drafts do NOT count.
Caveat: If you cannot write 7 picture books in 7 days, don't despair! I will be happy if you can complete at least ONE FULL DRAFT! Come on, you can do it! (Cue: Rocky theme music!) 🙂 (NOTE: We do the Honor System, so please do NOT send me your drafts as proof. I believe you!)
How to Participate: Please post a comment in our COMMENTS section about your writing day, your experience, and any comments or questions you might have! Please read each day's Guest Author Q&A for inspiration and writing tips!
Blogs: I will post a daily blog featuring words of wisdom from our Guest Authors/Artists every day from May 1-7, 2018 at 9:00 AM EST (6:00 AM PST). There will also be two extra blogs on May 8, 2018 announcing the contest winner and information on our next 2019 event on May 9, 2018.
History: This event was created in 2009 as a fun way to battle procrastination, and has since gone viral and become an annual event. To find out more, visit this link about the History of NAPIBOWRIWEE: https://napibowriwee.com/about/
Archives: If you are curious about past Guest Authors, please visit the BLOG link for the 2016 events up through the present. If you want to explore the NAPIBOWRIWEE Archives of 2009-2015, please go to our ARCHIVES link.
CONTEST: Everyone who posts a comment in this week's blogs will be included in a random contest drawing for prizes including autographed books by our Guest Authors and myself, plus souvenirs from our NAPIBOWRIWEE STORE! I will announce the contest winners on the last day – May 7, 2018.
STORE: If you want to wear your NAPIBOWRIWEE shirt while you drink coffee or tea from your NAPIBOWRIWEE mug and jot down your ideas in your NAPIBOWRIWEE journal, go to our store here: https://www.cafepress.com/paulayoonapibowriweeclassic
Because this is our 10th Anniversary of NAPIBOWRIWEE, I'm going to post a daily "Greatest Hits" blast from the past from NaPiBoWriWee events. So let's get into the NAPIBOWRIWEE Time Machine and go all the way back to… 2009!
NAPIBOWRIWEE FLASHBACK POST FROM MAY 5, 2009:
Prolific children's book author and poet Lisa Wheeler took time out of her busy schedule to write this lovely picture book describing her journey to becoming a published picture book writer. This is a huge honor to receive an original poem by Lisa for our 2009 NaPiBoWriWee week, so thank you Lisa!!!!
For more info on Lisa, please check out her website here:
http://www.lisawheelerbooks.com/
LISA WANTED TO WRITE BOOKS
By Lisa Wheeler
Lisa wanted to write books.
Books about animals. Grrrrr.
Books about people. "Hello."
Books with shiny cover. . .
and books kids would love the cover right off of.
Thin books and fat books.
Small books and tall books.
She wanted to write all books.
So she did.
Lisa wrote about a girl who blew a bubble so big
it exploded and coated the whole house. YUCK!
She wrote about a boy named Smelly  who would not take a bath.  P.U!
She wrote about a Hippo who got stuck in a doorway,
a rabbit who was afraid to go up the stairs,
and a dog who needed a friend.
She wrote about lots of things…
that no one would ever read.
The problem was that every time Lisa sent her story to a publisher
she got a big fat NO THANK YOU.
Lisa started to count her NO THANK YOUS.
When she got to 100 she stopped.
She took all those nasty NO THANK YOUS and dumped them into the shredder.
"Bye-Bye," Lisa said. "Out with the negative vibes!"
The next day, Lisa got NO THANK YOU number 101.
SIGH
Lisa started counting again.
One day, Lisa was in an extremely good mood.  She went skipping to her mailbox. Tra-la-la!
Only to be greeted by four NO THANK YOUS.
"148, 149, 150, 151," Lisa counted, as she slumped back home from the mailbox.
"That's it!" she said to her husband. "I am done! I am finished! I quit! I will never be published. The end!"
The next day, Lisa got a new idea.
It was NO THANK YOU number 200.
Lisa started listening to people.
People said talking animals don't sell.
Lisa stopped writing about talking animals.
People said rhyme doesn't sell.
Lisa stopped writing in rhyme.
People said picture books don't sell.
Lisa wrote a chapter book.
The chapter book got NO THANK YOUS numbered 205 through 210.
Lisa was very, very sad.
Then, one day, Lisa wrote a new book.
UH-OH!
It was a picture book!
It was in rhyme!
It had talking animals!
It sold.
Finally, after 225 NO THANK YOUS, Lisa got a YES!
SIGH
Lisa still wants to write books.
So she does.
######
Thank you Lisa for that trip down memory lane! 
And now, welcome back to 2018! Here's our first Guest Author interview with Helena Ku Rhee!
######
DAY 1 – GUEST AUTHOR Q&A WITH HELENA KU RHEE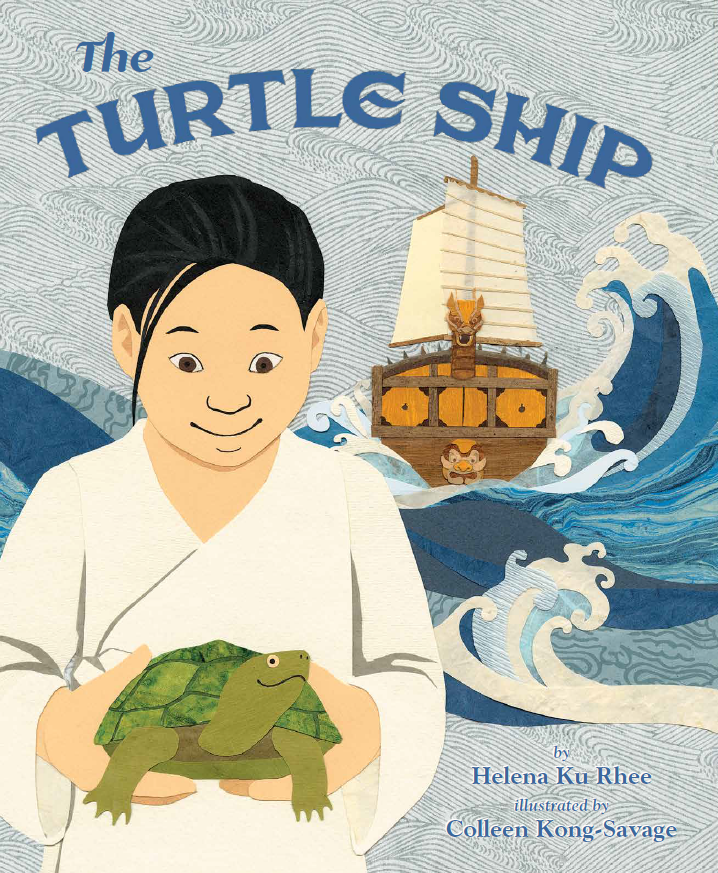 BIO: Helena Ku Rhee is a children's book writer by night and works full-time at a movie studio by day. Helena's debut picture book "The Turtle Ship," illustrated by Colleen Kong-Savage, will be published during the summer of 2018 by Lee & Low. Her second picture book "The Paper Kingdom," illustrated by Pascal Campion, will be published in 2019/2020 by Penguin Random House. She lives in Los Angeles, and you can find her online at helenakrhee.com.
Q&A INTERVIEW WITH HELENA KU RHEE
— What inspired you to write picture books?
I think I've always gravitated towards picture books because they're a beautiful art form. The words and illustrations have a synergy that truly transport you. Flipping the pages on your own, or reading the story aloud to kids and watching the wonder on their faces – that's magical.
— Do you write or illustrate in any other genres of writing or art forms? If so, what and why? Any preferences?
In addition to picture books, I've also written a couple of middle grade manuscripts and am working on a young adult novel. I love all three for different reasons. I love picture books because it's fascinating to see the text and illustrations work together. I love middle grade books because I just adore that age set – kids have the funniest questions and observations at that age, and I like to reflect that humor and curiosity via my characters. And I love YA because everything seems so momentous at that age – your first love, your first heartbreak, your first traffic ticket!
— What do you like most about picture book writing/illustrating versus other genres?
I love that picture books are a happy marriage between the text and the art. I love seeing the artist's interpretation of the story. When I first saw artist Colleen Kong-Savage's illustrations for our debut picture book, THE TURTLE SHIP, I was very, very moved. The artwork was so meticulously and lovingly rendered. It's amazing to see your characters come to life in full color, looking better than you'd ever imagined.
— What is the most challenging part about writing/illustrating picture books?
I have to constantly remind myself that the illustrations will help illuminate the story, so no need to go into lengthy descriptions. Also, it's an exhilarating challenge to tell a full story in under 1,000 words.
— Tell us about your first published book or first art assignment – what inspired the idea for the book or how did you figure out how to approach the art for the author's text?
THE TURTLE SHIP will be my debut picture book, published by the amazing Lee & Low. It'll be available this summer! My parents are from South Korea, so I grew up with their stories about Admiral Yi Sun-sin and his real turtle ship, which was a battleship modeled after the shape of a turtle. With a curved top and even a tail-shaped stern, the turtle ship was likely the first ironclad ship ever created. It fascinated me. Also, I lived in South Korea for a year after college on a Fulbright fellowship. While there, I purchased an academic book about the turtle ship and was absolutely amazed. Since nobody knows the full origins of the turtle ship, I wondered if it was possible that a small turtle could've indeed inspired the design of a mighty battleship.
— How long did it take to write (for artists – or illustrate & write)?
I wrote the first draft of THE TURTLE SHIP probably over a decade ago. But in the original draft, I'd told the story from the king's perspective, and something about that never seemed quite right. So I set the story aside for a number of years until it started calling to me again. Then, a couple of years ago, I revised the story many times and told it from the perspective of Admiral Yi Sun-sin as a child, and that made all the difference.
— Any fun or interesting details about the road to your first book's publication?
One of the most incredible parts of getting THE TURTLE SHIP to publication was finding the illustrator, Colleen Kong-Savage. Once I got the offer from Lee & Low, I went to the portfolio showcase at SCBWI's summer conference, to see what was out there. I think that was in late July/early August of 2016. I saw the portfolio of artist Colleen Kong-Savage, and kept going back to it, again and again. Her illustrations really stood out to me among the many brilliant portfolios I saw that day. So I took one of her postcards and looked up her website. I sent her a fan email, and mentioned I'd written a book about a boy and his pet turtle, and would love to introduce her to my editor. She wrote back immediately to ask if my book was with Lee & Low. What?! How did she know?! I had no idea that months beforehand, Jessica (my editor) had already pinpointed Colleen as a potential illustrator for THE TURTLE SHIP and had reached out to her agent. Of all the hundreds of thousands of illustrators out there, Lee & Low and I landed on the same artist! We must've had the same vision for the book, and Colleen's artwork matched that colorful and whimsical vision. The serendipity still gives me the chills!
— Do you have a favorite picture book or a picture book that most inspires you with its writing and/or art? If so, which one is it and why?
I have so many favorites that singling out just one book is truly impossible! I tend to gravitate towards picture books that make me laugh or that make me cry. Okay, I'll mention a few that I love. Amy Krouse Rosenthal was amazing, and "Duck! Rabbit!" is a book I often gift to friends with young kids. I also love the work of Doreen Cronin – "Diary of a Worm" and "Click, Clack, Moo" make me laugh out loud. And recently, I discovered Jessixa Bagley's "Boats for Papa." Makes me sniffle whenever I read it. And what's cool about Paula Yoo's "Sixteen Years in Sixteen Seconds" is that I had the good fortune of coming across the story right before I met Sammy Lee at a dinner– her story was a wonderful introduction to the impressive (yet adorable) man I met in person!
— Where is the best place for you to write your books or to do your illustrations? (If you are an illustrator, are you hi-tech or low-tech? Do you use those fancy computer programs or do you sketch/draw by hand on paper/non-computer materials?)
I've always fantasized about being the type of person who, dressed in a cute outfit, can write in a hip café while listening to music. But I need silence to write. And I don't write to music because I find it very distracting. So I'm usually in loungewear in my upstairs home office or at the dining table if it's quiet downstairs.
— If you weren't a writer/artist, what would you be?
Doesn't Anthony Bourdain have such a cool job? To travel the world, eat delicious foods and meet interesting people all the time…that would be awesome. But unfortunately, eyeballs and maggot fried rice are not my idea of a great meal. Also, I'm seriously in love with being at home, so I think the constant travel would wear me down. In other words, Anthony Bourdain should feel no threat that I'm after his job.
— Tell us something about yourself that most people don't know.
I eat a square of dark chocolate every afternoon. Just one square, maybe two if I'm indulging myself. When I read in the NY Times a couple years ago that former President Obama ate exactly eight almonds every night, I loved him even more. Of course, I found out later that this was a joke, but looking at him in his neat attire, I think he actually does eat a precise number of almonds each day (but just pretended like it was a joke so he wouldn't come across as super weird/anal). Anyway, I'm very particular about the cocoa content in my chocolate — my preference for years has been Valrhona's 71%. I also love Bachmann's dark chocolate, but it's hard to find outside of Switzerland. I considered contacting Bachmann to see if I could be their U.S. distributor out of my house, but I'm afraid I'd eat all the inventory.
— If you could give one piece of writing or illustrating advice for our NaPiBoWriWee participants, what would it be?
This is something that I'm constantly telling myself: though it's important to study the market and keep up with what's being published today, don't pay too much attention to what others are doing. If you let marketplace news distract you too much, you will waste precious time that could be spent on your projects. It could also make you feel depressed. For many years, when I read the news of other writers getting their works traditionally published by a great publishing house, I'd feel a little down. But I kept at it, and then started getting "nice" rejections from agents and editors, the kind with hand-written comments complimenting my characters or my writing. So I knew that, despite the rejections, I was on the right track. As tough as this is to accept before you reach the other side, rejection is truly part of the process and it makes you better and stronger. So focus on your projects and your ideas, and don't get too caught up in "what's hot" and who's got a deal with whom. You don't want too much noise crowding your brain space.
— There's been a growing demand for more diversity in children's book publishing for women and people of color either as book subjects/stories/characters or for diverse writers/illustrators. What are your thoughts on that, if any?
This movement for diversity is long overdue. I wish there'd been such a diversity of voices while I was growing up. It would've been wonderful to open a picture book or a middle grade mystery with a diverse cast of characters. I think, in part, books help kids understand the world. And how awesome to have a diverse world represented in the books that they open over and over again. I think this planet will be a better and more tolerant place if the characters that kids fall in love with are from a wide spectrum of backgrounds. I'm so glad that the publishing industry is pushing for diversity, and I hope it's not just a trend, but a normal mode of operation going forward. The two publishing houses I'm currently working with, Lee & Low and Penguin Random House, have done a great job of making diversity a priority. And Lee & Low is unique in that diversity is their primary mission.
— There's been increasing pressure for writers and artists to be active on social media. Are you on social media? If so, where can your readers reach you? Has social media helped your writing/art journey and career? Any advice for writers or artists who might feel overwhelmed by the social media "burden"?
I'm on social media, but it doesn't come naturally to me. Probably because I'm a very private person as well as a classic introvert. So I'm a late adopter who's still trying to figure out how to incorporate social media into my life as a writer – in other words, the jury's still out as to whether social media will help my writing career or just continue to serve as a distraction from my writing. I have been enjoying Instagram and Twitter (though I'm not very active) because there's a casualness about those platforms that I like. Posting on Facebook kind of scares me because their targeted ads and algorithm-generated suggestions make me feel like there's always someone watching. But I do love hearing from fellow writers, artists and readers. So please connect with me!
Website: helenakrhee.com
Facebook: Helena Ku Rhee
Instagram: @helenakurhee
Twitter: @HelenaRhee
######
Thanks, Helena, for taking time out of your busy schedule to answer our questions! I hope everyone is now inspired to start writing for Day One! 
Please remember – in order to be included in our CONTEST DRAWING, please post a comment below about your Day One experience and anything else you'd like to add. I will include all your names in a hat for the prize drawing at the end of the week!
Stay tuned for DAY TWO's blog which will be posted tomorrow, Wed. May 2, 2018 at 9 AM EST/6 AM PST! We will meet the ILLUSTRATOR Colleen Kong-Savage who did the beautiful artwork for THE TURTLE SHIP! Until then, HAPPY WRITING! WRITE LIKE YOU MEAN IT! 🙂