2018 NAPIBOWRIWEE DAY 4 – Meet Guest Author Carrie Clickard!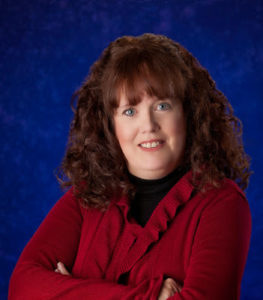 WELCOME TO DAY FOUR OF THE 2018 NATIONAL PICTURE BOOK WRITING WEEK EVENT!
Did everyone survive Day 3? How many books have you finished so far? For those of you who finished three books in three days, congratulations! YOU ARE ON FIRE! For those of you still scrambling to catch up – KEEP GOING! DON'T GIVE UP! 🙂
For my Day 3, I received a surprise package in the mail from my publisher. It was the paperback edition of my 2014 children's picture book biography, TWENTY-TWO CENTS: MUHAMMAD YUNUS AND THE VILLAGE BANK (illustrated by Jamel Akib, Lee & Low Books 2014).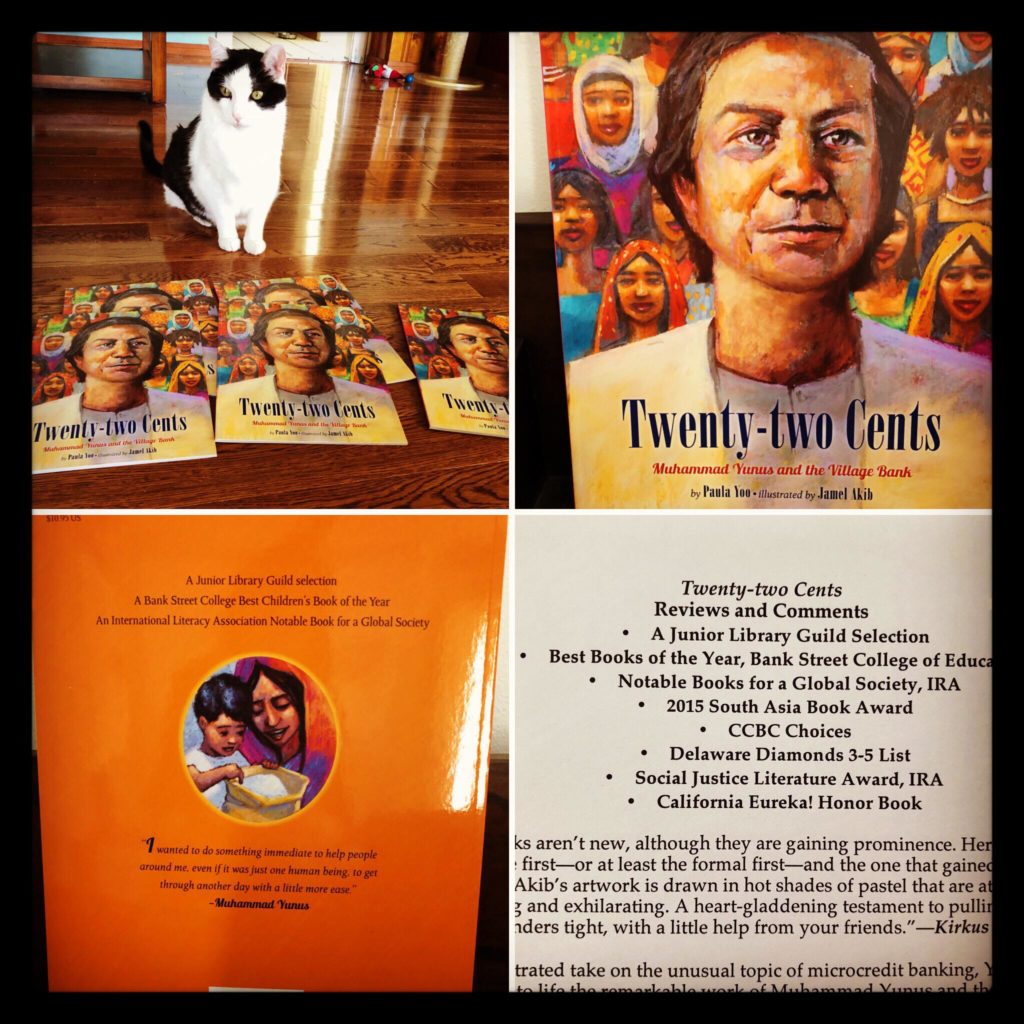 So this got me thinking about biographies again. And then I remembered a recent concert I did where we played debuted a piece by an American woman composer who struggled against a lot of discrimination during her time. So I researched her and realized – this is a book, too! (PS. For those of you who are new to this event and have just "met" me, FYI, when I am not writing, I am a professional violinist who likes to play with orchestras and rock bands! https://paulayoo.com/music/)
I wrote a really rough draft. But to be honest and fair, I feel it reads more like an OUTLINE than a real full draft. So to be fair and fully transparent, I am counting this as a PARTIAL manuscript. Which means I did NOT finish Book No. 3. I have only written two full drafts and for Day 3, I did what is really a glorified outline. Hopefully I can catch up over the weekend.
See, I am human just like the rest of you! There have been NAPIBOWRIWEE events in the past ten years where I did NOT write all 7 picture books in 7 days. So I struggle just like everyone else! 🙂
But… silver lining… the past three picture books I have written and submitted to my book agent were all born out of NAPIBOWRIWEE events from the past, so I am hoping at least one more book from this year's event will also see the light of day.
Once again, a solid day of writing for NAPIBOWRIWEE. And now… it is DAY FOUR. Uh oh… you know what that means…
… it means we are at the HALFWAY POINT. This is where what started off as a fun lark now turns into a tough road for most of us. We've been brainstorming and writing for three days in a row. And now, on Day 4, we realize…
… we still have four more days to go. Four more books! Can we handle this?
YES! You can! Day Four is always the Make or Break Point for a lot of NAPIBOWRIWEE writers. I would say historically Day Four is one of the hardest days to survive. This is the breaking point where many folks burn out. Don't burn out! Hang in there! YOU WILL MAKE IT THROUGH THIS DAY!
And to keep you inspired for Day 4, here's a Greatest Hits Flashback blog post from acclaimed veteran picture book author KELLY DIPUCCHIO. She has been a guest multiple times over our past ten years of doing this event! Here's some words of wisdom she gave on May 3, 2012 about how to create a memorable and unique CHARACTER…
NAPIBOWRIWEE FLASHBACK POST FROM MAY 3, 2012: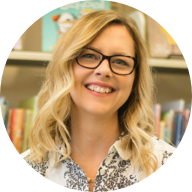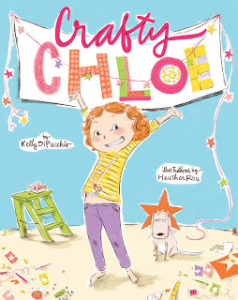 Kelly DiPucchio is the New York Times bestselling author of several books including Grace for President and Zombie In Love. As a little girl growing up in Michigan, Kelly spent a lot of time outdoors, combining her love of art and nature by painting rocks, seashells, and pinecones. Today, Kelly satisfies her crafting itch by repurposing old furniture and other resale shop treasures.  Just don't ask her to sew; Kelly used to affix her daughter's Girl Scout patches to her vest with a hot glue gun.  You can visit her at: www.kellydipucchio.com
Kelly was kind enough to write us a special guest blog about her experience in creating Chloe as a picture book character. We hope you are inspired by her writing advice to create a uniquely original character for your NAPIBOWRIWEE Book No. 3 today!
Kelly writes…
"When I came up with the idea for CRAFTY CHLOE I was really excited.  I've been crafty kid at heart since childhood and I've been raising a crafty kid for the past 15 years. But I knew that in order for Chloe to be a successful character, she had to be so much more than crafty.  A great hook is important, but it's not enough to satisfy discriminating readers.
"When you think about your closest friends, you can probably think of several traits they possess that make you want to spend time with them. The same should be true for the characters you create in your picture books.  But please don't take that to mean that all of your character's traits have to be positive. Nobody likes a goody two-shoes.  When I sat down to analyze some of Chloe's attributes, I came up with the following list: crafty, kind, uncoordinated, funny, melodramatic, determined, imaginative, humble, indecisive, independent, creative, forgiving, and just a little bit insecure. Keep in mind, these qualities are revealed through Chloe's actions in the story.  I will spare you the "show, don't tell" speech. Also keep in mind; I did not make the list before I wrote the manuscript. I allowed Chloe's personality grow organically out of the story. Two dimensional characters are boring, but characters that are overly contrived and unbelievable aren't much fun to hang out with either.
"Diamonds sparkle for a reason – they're multi-faceted. The angles and cuts in the stone reflect the light. If you want to create characters that really shine, make sure they're multi-faceted, authentic, and worthy of your readers' time."
######
Thanks Kelly for your sparkling diamonds of writing wisdom! As you all write your Book 4 today, maybe thinking about Kelly's suggestions on how to create a memorable and realistic character! For more on Kelly and her books, go to her website here: http://www.kellydipucchio.com/home.html
And now, back to the present with today's Guest Author… Carrie Clickard!
######
DAY 4 – GUEST AUTHOR Q&A WITH CARRIE CLICKARD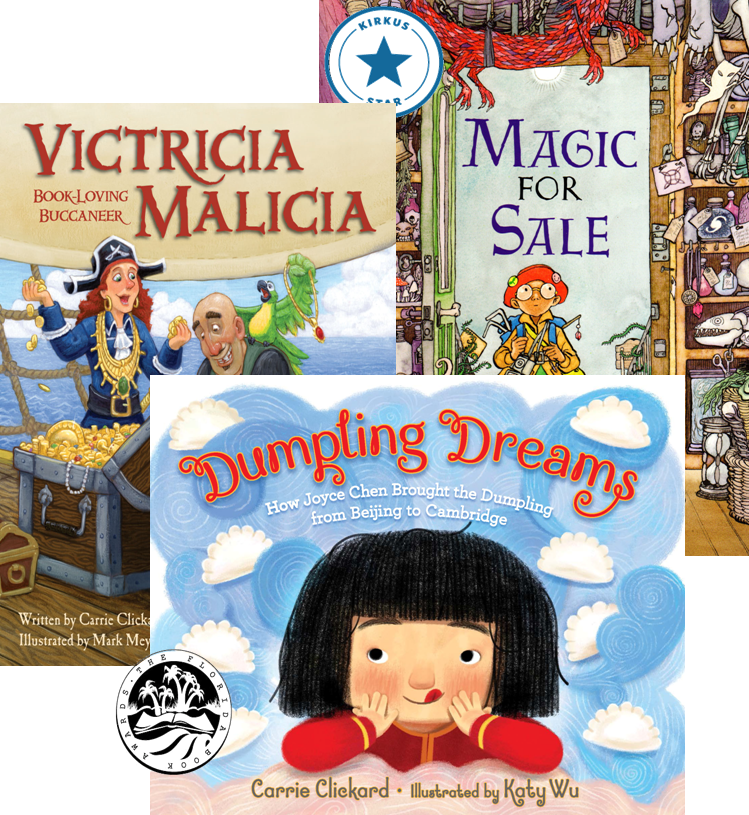 BIO: Carrie L. Clickard is an internationally published author and poet. Having spent her life with either a book in hand or one in her head waiting to be written, she credits her writing success to the firm beliefs that dragons are real and baton twirling should be an Olympic sport. In addition to Florida Book Award Silver Medal winning DUMPLING DREAMS (Simon & Schuster), her children's books include BIGGER IS BETTER (Simon & Schuster, forthcoming), MAGIC FOR SALE (Holiday House) and VICTRICIA MALICIA ( Flashlight Press). Her poetry and short stories have appeared in numerous anthologies and periodicals including Myriad Lands, Havok, Andromeda Spaceways, Enchanted Conversations, Muse, Highlights, High Five, Spider, Ladybug, Spellbound, and Underneath the Juniper Tree. For more information on Carrie or her books please visit www.clclickard.com.
Q&A INTERVIEW WITH CARRIE CLICKARD
— What inspired you to write or illustrate picture books?
I'm a born book omnivore and haunted the library at the end of my street from my earliest days. I fell into the wondrous illustrated world hiding on those bottom two bookshelves and never wanted to leave. Who could imagine anything better than spending time with Madeline, Thidwick the Good hearted Moose, Ferdinand the bull, Harry the Dirty Dog or Beatrix Potter's charming creatures? So I suppose that's what I've done with my writing. I've stayed as close as I could to what delighted my childhood imagination.
— Do you write or illustrate in any other genres of writing or art forms (acrylic, oil, watercolor etc.)? If so, what and why? Any preferences?
I also write middle grade fiction, speculative fiction for adults (science fiction, fantasy & horror), poetry for all ages and nonfiction for both kids and adults. Settling for just one genre would be nearly impossible for me. Whatever genre I'm writing, my heart naturally tends to the fantastical and seeks out chances to write with a flavor of surprise or even magic. In the opposite direction, I'm an incurable autodidact, so nonfiction satisfies my perpetual curiosity and lets me vicariously experience the lives of explorers, adventurers and scientists. Who says you can't write it all? Or at least I can try to write it all. (grin)
— What do you like most about picture book writing/illustrating versus other genres?
I love that picture books are still hopeful and see the world through wonder-filled eyes. That feeling of simple joy and unbridled imagination is what I miss from my own childhood. So I'm indulging my inner child while I work for a living. Couldn't ask for a better job.
— What is the most challenging part about writing/illustrating picture books?
As anyone who has talked to me can attest, I'm a wordy person. So the lower word counts in today's picture books can be torture for me. That being said, it's an exquisite torture. When I manage to get my pared down text to sing, I'm delighted. About a year ago I sold a piece to Ladybug magazine that told an entire fairytale story in four lines. Given my predilection for loquacity, I'm as proud of that poem as I am my longer books. (And I'm dying to see how they illustrate it. Hint, hint. Any Cricket Media editors listening?)
— Tell us about your first published book or first art assignment – what inspired the idea for the book or how did you figure out how to approach the art for the author's text?
The first picture book I sold was Victricia Malicia, about a girl born into a long line of fierce female pirates. The problem is Victricia detests everything to do with seafaring life. The idea for my sassy young landlubber popped into my head after seeing a truly terrible production of the Pirates of Penzance. A friend quipped "If I was ANY of those pirates, I'd be so embarrassed I'd move to the desert." And I thought, hmmmm, what if a pirate secretly wanted to live on dry land? What would their family think? Could they find a way to strike out on their own? A few weeks later I had a rough draft of Victricia.
— How long did it take to write (for artists – or illustrate & write)?
With revisions and polishing it took about two months to be submission ready – and another month to get up the courage to actually email it out.
— Do you have a favorite picture book or a picture book that most inspires you with its writing and/or art? If so, which one is it and why?
For its subversive humor and the balm it poured on my youngest child heart: The Second Princess by Tony Ross. For sheer rhyming delight and mastery: On Beyond Zebra by Dr. Seuss. And for charming silliness and adorable art: A Porcupine Named Fluffy by Helen Lester. Oh to have written any one of the three!
— Where is the best place for you to write your books or to do your illustrations? (If you are an illustrator, are you hi-tech or low-tech? Do you use those fancy computer programs or do you sketch/draw by hand on paper/non-computer materials?)
Prose I seem to write everywhere: coffee shops, forest trails, the aisle at the grocery store, curled up in bed. If I could figure out a way to write in the pool, I would But if I'm writing or revising rhyme, walking my four pound pooch is my definite preference. I think it's the rhythm of my footsteps matched to the beat of the words. Granted I have to write it in my head first and the neighbors think I'm a bit mad, muttering and pacing past their windows, but then I get home and scribble madly. Somehow it just works.
— If you weren't a writer/artist, what would you be?
A puppeteer or an undersea explorer, or maybe an undersea explorer who uses puppets to communicate with whales. Now there's my dream job.
— Tell us something about yourself that most people don't know.
I don't watch TV anymore. Yes, I know that makes me some sort of freak of nature. I just prefer reading or writing or rpg'ing or sketching or cooking or …. well, just about anything is better than TV. Thanks to family and friends I hear a lot about current shows and I've even binge-watched a few series like Jordskott and Stranger Things. Still, if you come for a visit, bring your netflix or be prepared to live TV free.
— If you could give one piece of writing or illustrating advice for our NaPiBoWriWee participants, what would it be?
Write constantly, persistently, as if writing were as necessary as food. It is. Don't compare your success to someone else's – you'll only end up envious or smug – both are poison to creativity. When asking for a critique never ask "Do you think this piece is good enough to submit to an editor?" Ask instead "Is there any way I can make this better?"
— There's been a growing demand for more diversity in children's book publishing for women and people of color either as book subjects/stories/characters or for diverse writers/illustrators. What are your thoughts on that, if any?
Every voice deserves to be heard. The more voices that are included in the literary world, the richer life will be for everyone. If we can learn to make space and listen better, I believe we'll discover a whole choir of missing voices. Can't wait to hear the stories they tell.
— There's been increasing pressure for writers and artists to be active on social media. Are you on social media? If so, where can your readers reach you? Has social media helped your writing/art journey and career? Any advice for writers or artists who might feel overwhelmed by the social media "burden"?
I'm on Facebook and Twitter, as well as maintaining my own website — though I'm not as consistent at posting news as I should be. I love the camaraderie of the writer and illustrator community on social media, and some of the resources they share are terrific. But if I'm honest I'd say social media is more of a distraction or a solace than a productive tool for my writing life. Plus, I know too many writers that have been broken by the dark side of social media, gossip, flaming, trolls, – BLERGH. My advice is, if social media connections make you happy and inspire your writing, stick with it. If not, get away now and go do what your heart craves: CREATE.
######
Thank you Carrie for taking time to talk with us about your writing career and how you approach the craft and art of writing. And like you say … we should do what our heart craves… CREATE! 
So let's get going, everyone! Create away! Good luck and please comment below on your Day 4 experience. Remember, if you post a comment, you are automatically included in our contest where a lucky winner will receive an autographed copy of Carrie's book! (And of course other winners, too, with prizes from ALL our guest authors and me and from our store!)
HAPPY WRITING! WRITE LIKE YOU MEAN IT! 🙂