2018 NAPIBOWRIWEE DAY SEVEN – OUR FINAL DAY!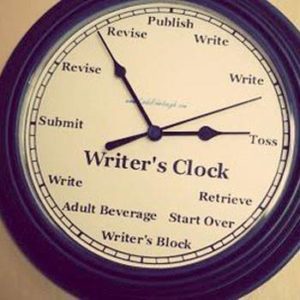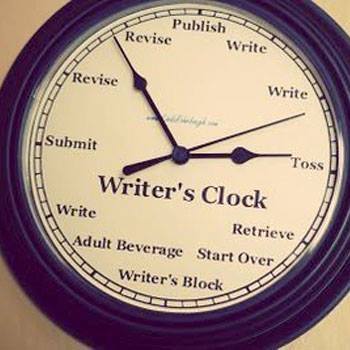 WELCOME TO DAY SEVEN OF THE 2018 NATIONAL PICTURE BOOK WRITING WEEK EVENT!
I can't believe we are almost done with our Tenth Annual NAPIBOWRIWEE!!!!! How is everyone feeling? I am so proud of your hard work and participation this year. Hang in there… you have just 24 more hours to go and then you can sleep and take a break!!!!!! 🙂
I want to remind people that even though this writing event is just for fun and to encourage people to learn how to write on a daily basis and use these picture book drafts as writing exercises… sometimes, you never know. That ONE book you wrote for NAPIBOWRIWEE could end up selling. Remember, I used NAPIBOWRIWEE to write the rough draft of what would eventually become my third published picture book with Lee & Low Books – TWENTY-TWO CENTS: THE MUHAMMAD YUNUS STORY. So remember, today's NAPIBOWRIWEE very rough first draft could end up on a bookshelf one day as a real published book! The whole point of this week was to just GET THESE DRAFTS DONE. The REAL writing is now in the revising… so for the rest of 2018, you will have at least 7 rough drafts to choose from and revise to perfection! Fingers crossed for all of you! 🙂
Day 5 and Day 6 were over the weekend (Saturday and Sunday). So I was able to get a little bit more writing done than usual. I also bought my first "smart" notebook from the Moleskine store. (I love Moleskine notebooks!)
I use Evernote as a way to keep track of my schedules and writing ideas/notes. I had seen a video about how you could get a specially designed Moleskine notebook that you could upload digitally to the Evernote app. It has these little stickers you put on the page and then when you take a picture and upload it onto Evernote, you can actually "search" and "tag" your own handwritten notes. It's pretty cool. Go here for more details: https://evernote.com/moleskine
So I had fun writing my Day 5 and Day 6 picture books in this notebook!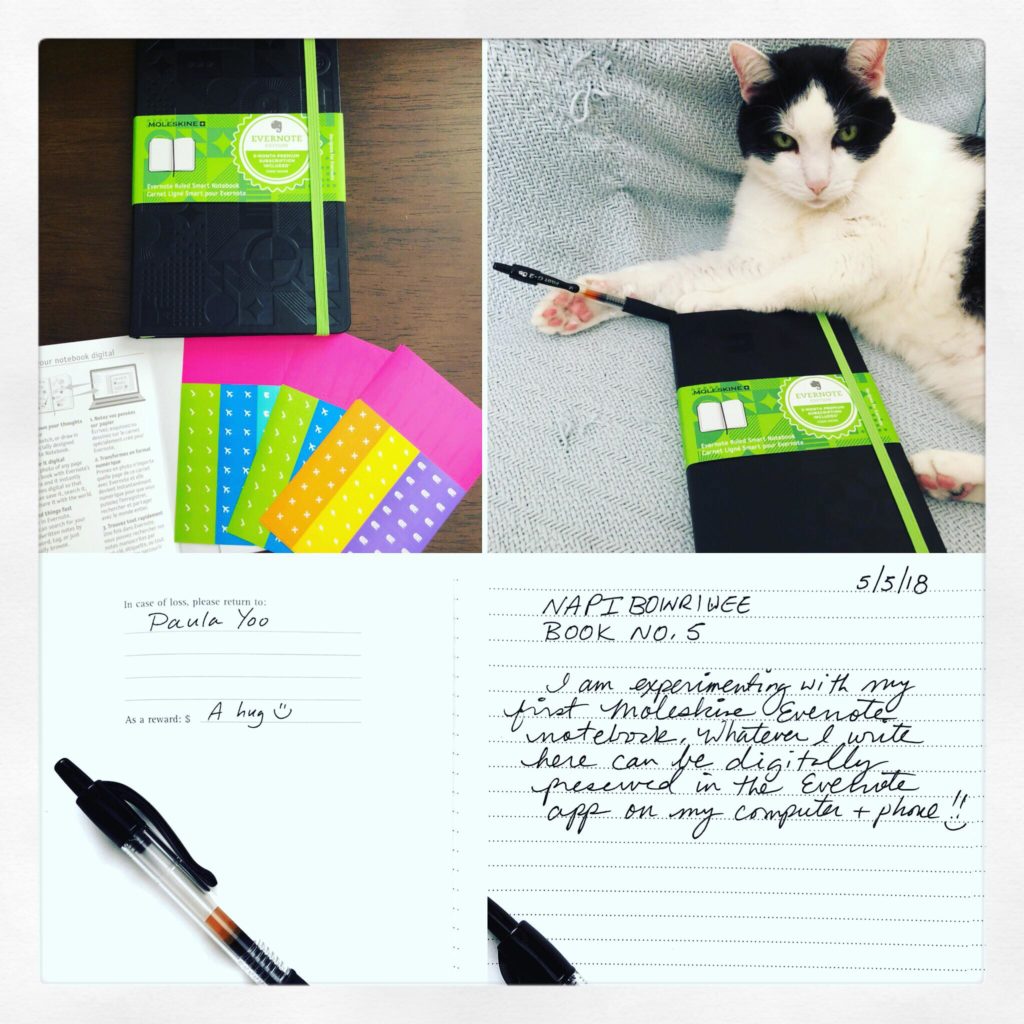 On this last day of NAPIBOWRIWEE, I am curious… what writing software or hardware do you use? I've asked this question before, and every year, the answers sometimes change depending on the advances in technology.
For me, I use the following: Classic Microsoft Word, Final Draft (for my scripts), Scrivener, Evernote, OmmWriter, and the Index Card app for my iPad.
I also love writing longhand and I have my own "whiteboard" which are my three closet doors in my office that use frosted glass so I can use a dry-erase marker to jot ideas on my doors!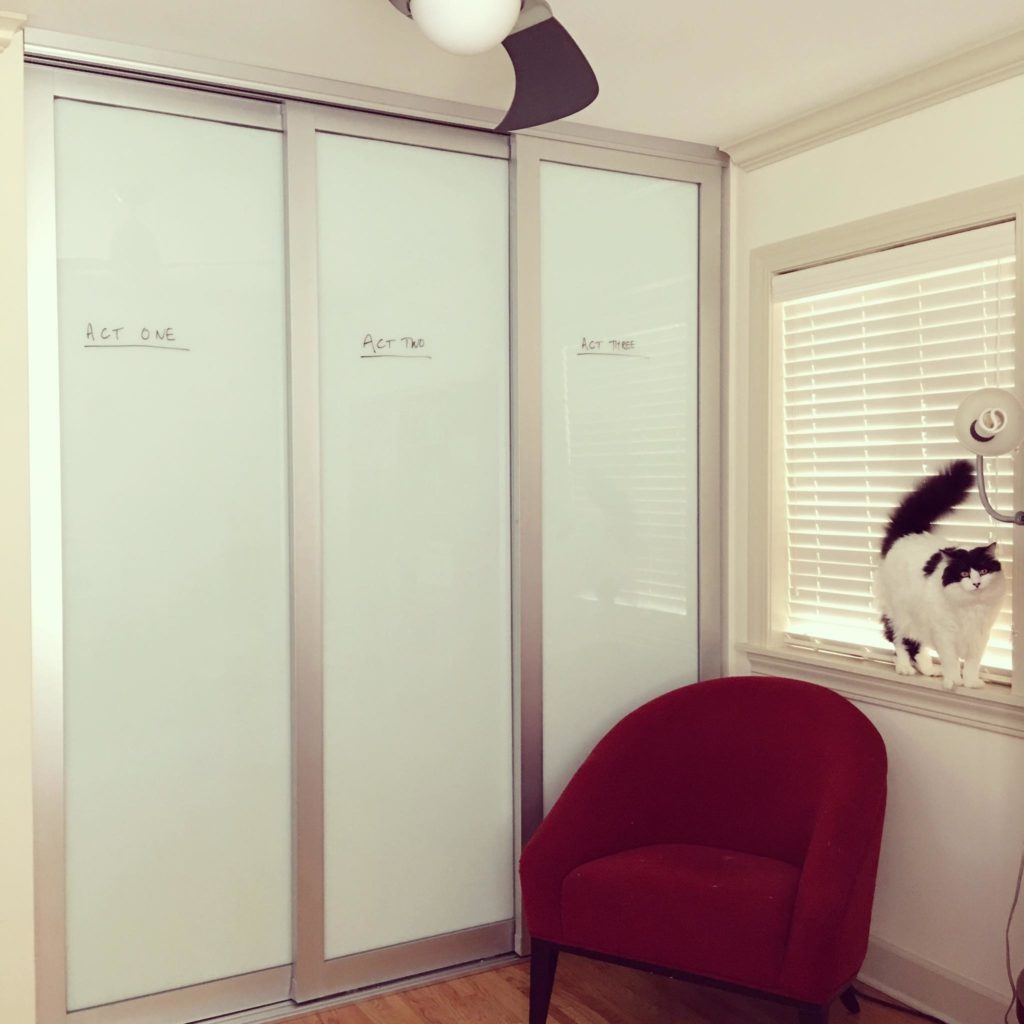 So for Day 6, I had fun social event to attend on Sunday afternoon. I met my friends from a show I used to write for called DEFIANCE on SyFy. We are all sci fi geeks and wanted to try out this fun virtual reality adventure game called THE VOID – STAR WARS "SECRETS OF THE EMPIRE." (You can find out more here: https://www.thevoid.com/locations/glendale) For this game, they made you wear a heavy backpack that had a computer in it that linked you to a virtual reality headgear set. It was INCREDIBLE – you were turned into a Rebel-disguised-as-a-Stormtrooper and had to sneak into the Empire to help save the Rebel Cause. Talk about a head trip! The special effects were amazing. I would raise my hand up in front of my eyes and my hand/arm were completely covered in a Stormtrooper uniform! (If you are curious to see what it looks like, go here: https://youtu.be/xbrIJdu6Gn0)
So when I got home, I realized… hey, I work in Hollywood. Why not do a fun children's picture book about how a movie is made? And every year for NAPIBOWRIWEE, I try to do at least one ALPHABET book because when I get burned out on writing 7 picture books in 7 days, an alphabet book is always at least a structured book that you can focus more on thinking of 26 words to tell a story. It's more like solving a puzzle. So I researched some movie glossary term dictionaries and went through my own screenwriting books to put together a list of 26 words corresponding to the alphabet that shows how a movie is made from start to finish!
And now… for my final 2018 NAPIBOWRIWEE post for Day 7, here is a very special "Greatest Hits" Flashback Post to celebrate our TENTH ANNIVERSARY! Are you ready for the BIG SURPRISE?
It's the VERY FIRST NAPIBOWRIWEE POST FROM MAY 1, 2009!!!!!!
When I first started NAPIBOWRIWEE, it was hosted on my website https://paulayoo.com So for anything that far back, I only have screenshots available of the original blogs from 2009 to 2010. (2011 to 2015 are archived on my regular author website and the rest from 2016 to present are here!)
My original website has been redesigned, so I can only provide you with screenshots of the original blog. It features our first Guest Author Q&A with veteran children's book author ANN WHITFORD PAUL! Fun trivia – I wrote for the show THE WEST WING on NBC starring her brother, Bradley Whitford! What a small world! I knew Ann first when I met her at an SCBWI (Society of Children Book Writers & Illustrators) conference years ago. So when I worked as a staff writer on Season 4 of The West Wing, I bragged to Bradley Whitford that I knew his amazing sister! 🙂 What a talented family, huh?
So here we go with today's last Blast from the Past!
######
NAPIBOWRIWEE FLASHBACK POST FROM MAY 1, 2009 — THE VERY FIRST NAPIBOWRIWEE BLOG!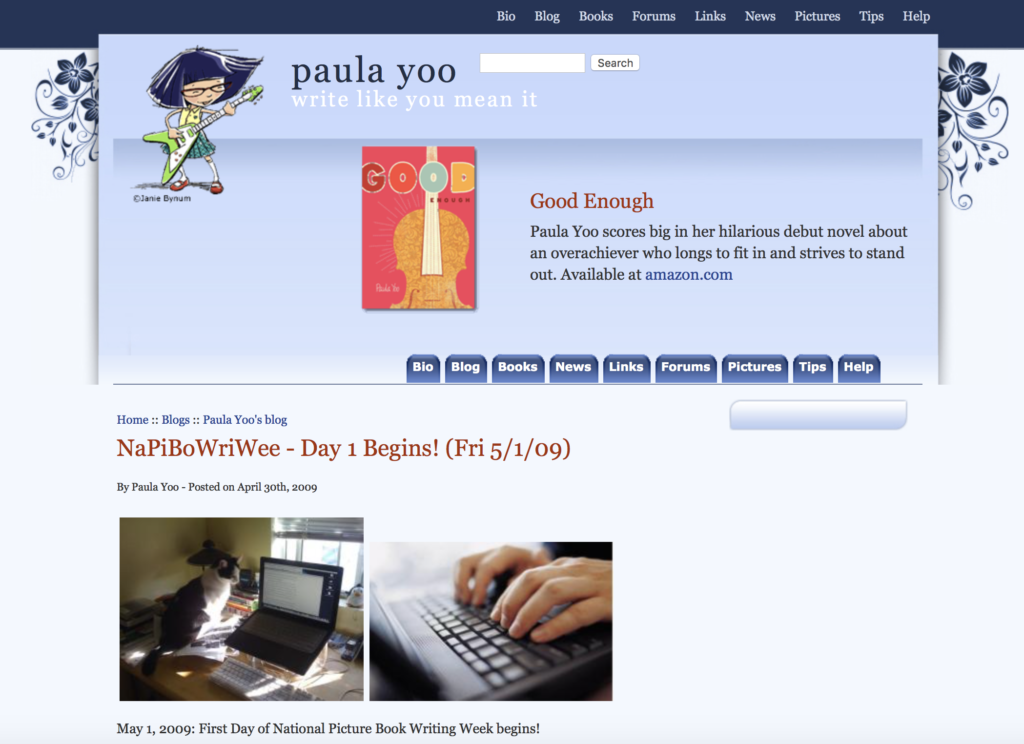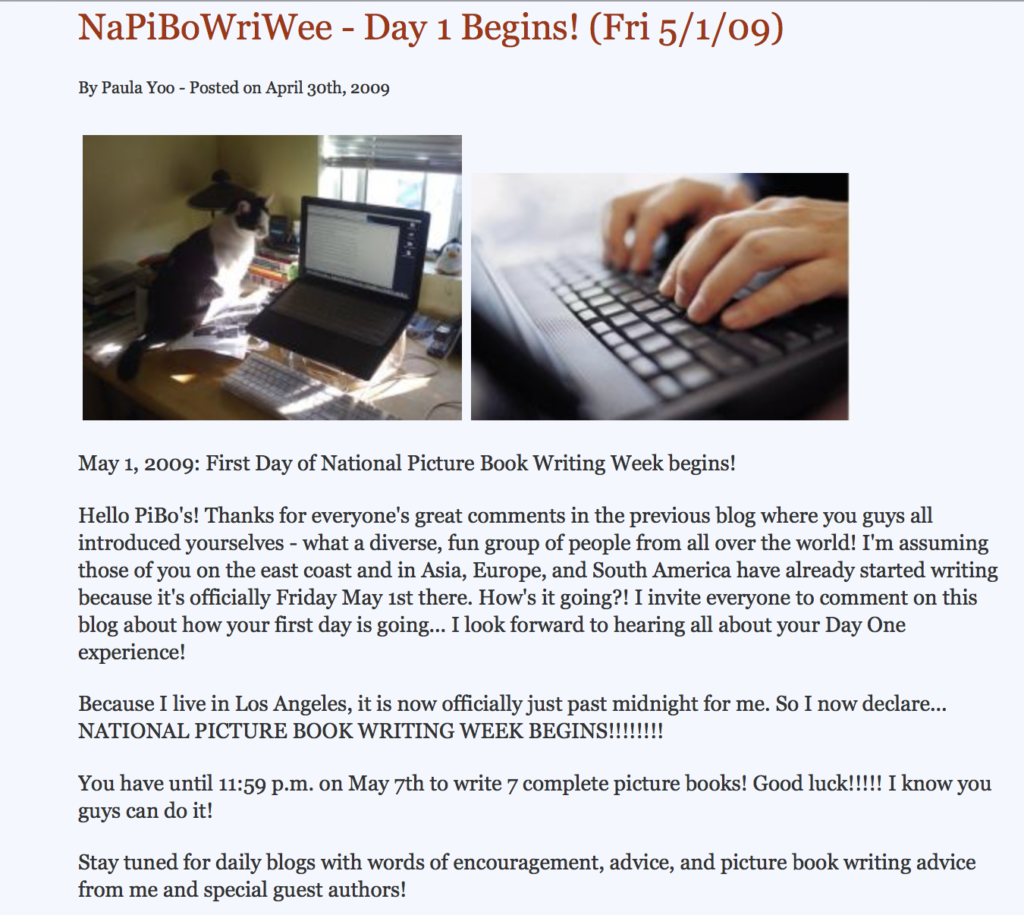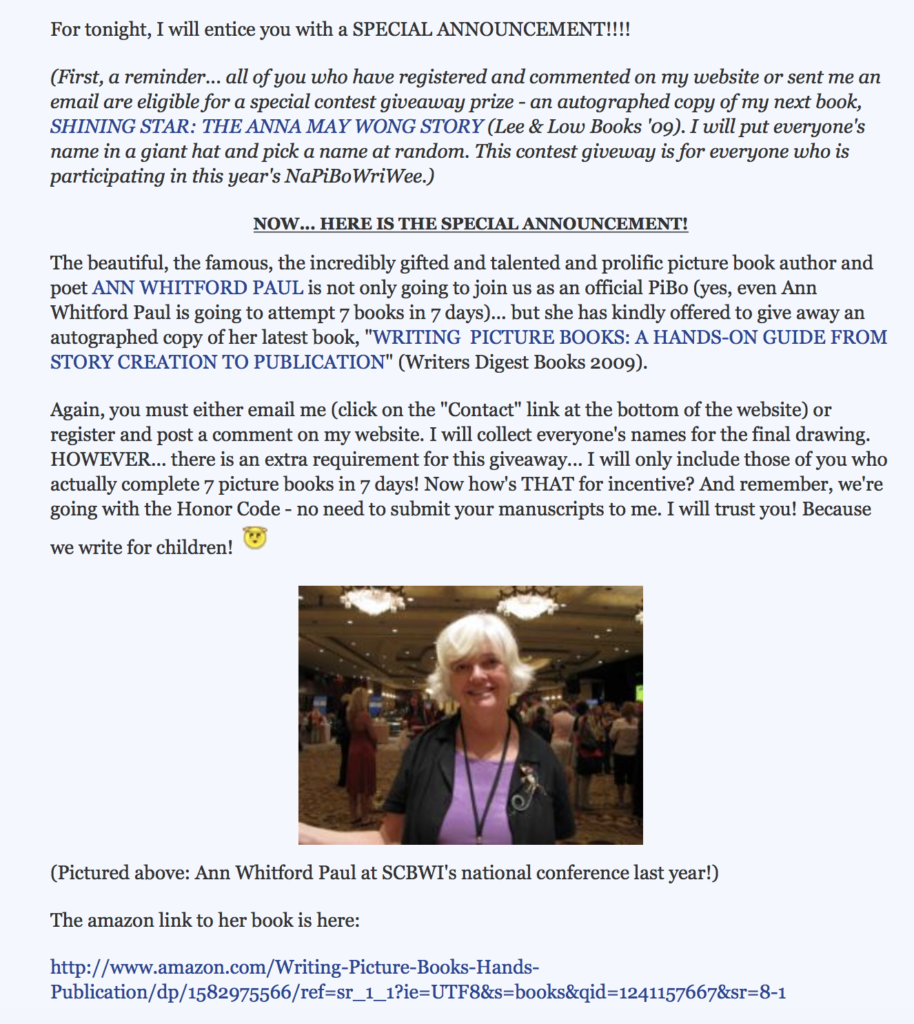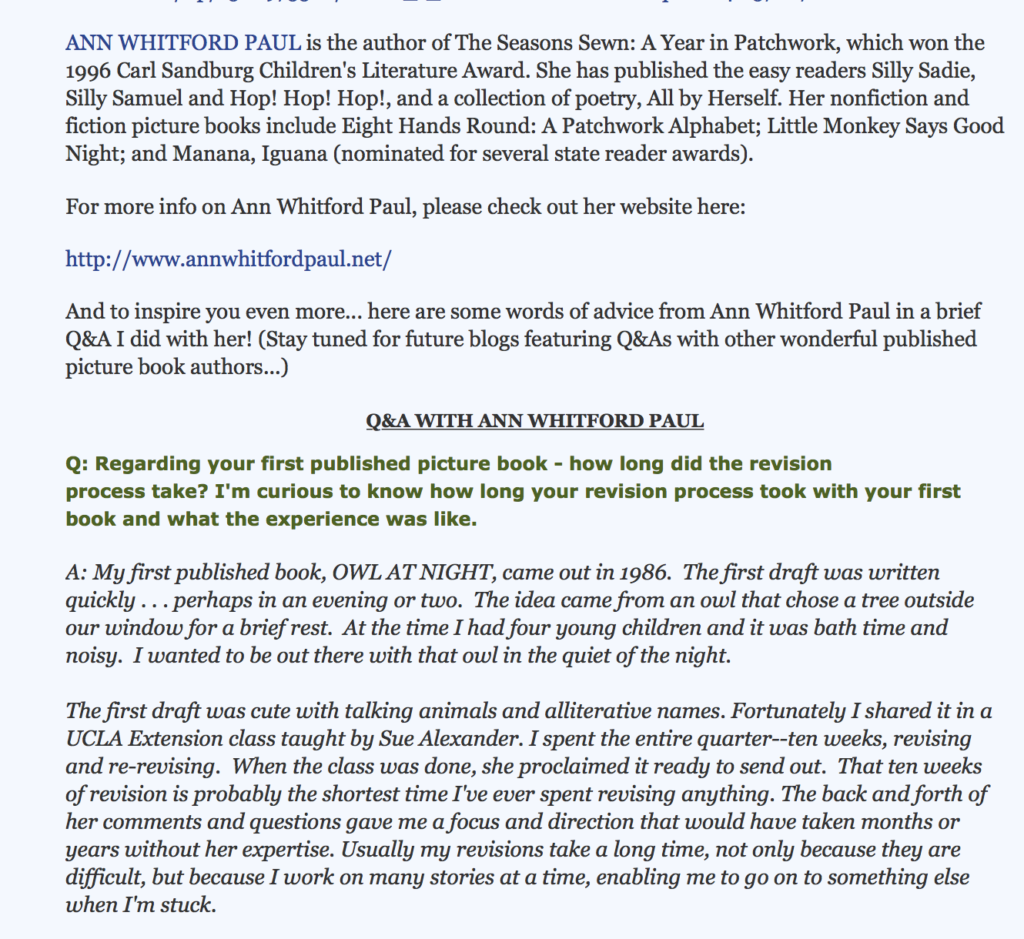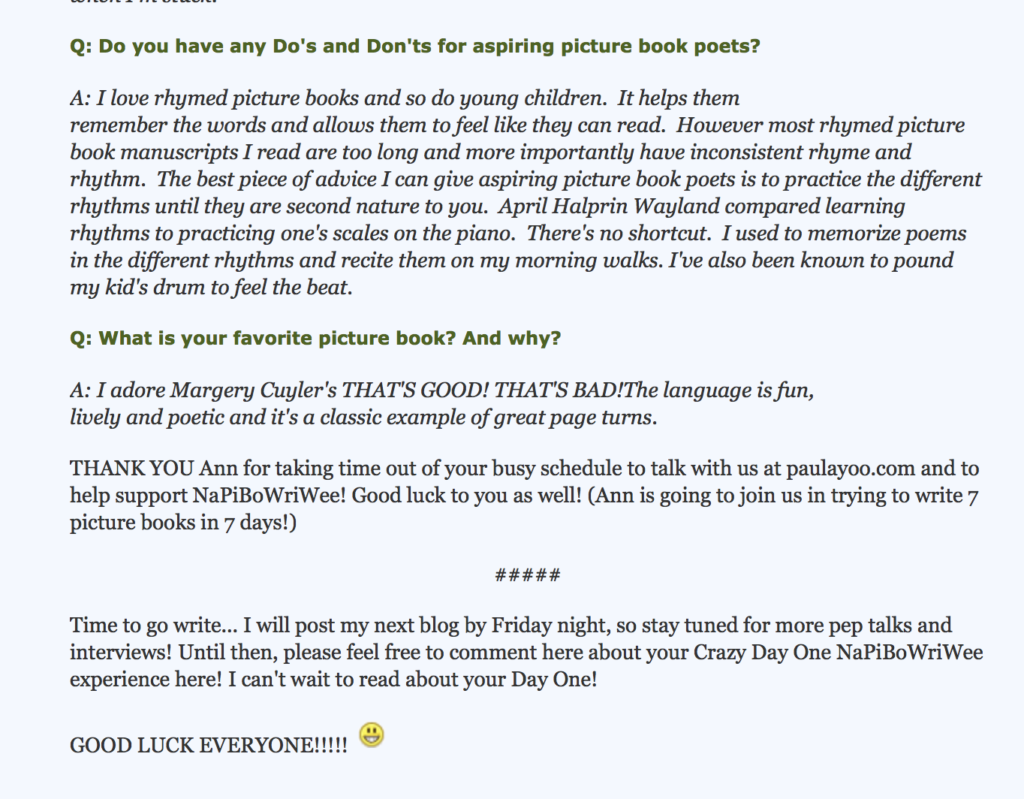 ######
Wow! Can you believe I posted that in 2009? How time flies! 🙂 Thank you to Ann Whitford Paul for your writing wisdom!
Now, as we return to the year 2018 and wrap up our NAPIBOWRIWEE experience, here are some Nuts & Bolts about what will happen in the next couple of days…
NUTS & BOLTS ABOUT THE END OF 2018 NAPIBOWRIWEE:
1. CONTEST ALERT: Today is your last day to post comments if you haven't already to be included in the contest drawing where I will randomly select names from a hat. The winners will receive autographed copies of everyone's books (including mine!) along with fun souvenirs from our store!
2. CONTEST ANNOUNCEMENT DATE: The contest announcement of winners will happen on MAY 8, 2018 at 9:00 AM EST (6:00 AM PST). Stay tuned! Please come back here tomorrow to find out if you won! I will then make arrangements to contact winners to arrange prize delivery!
3. May 9, 2018: I will post a blog with information about NEXT YEAR'S NAPIBOWRIWEE event for 2019! So please come back for that, too! I will be closing the blog for comments at a certain date this year as well (to prevent spammers from taking over my website LOL) but I will announce how long you can post comments until then.
######
Well, I know it's our last day to try and cram in our 7 picture books in 7 days, so let's not waste any more time. Please post in the comments section about your Day 7 experience and for fun, please tell me what writing software and/or longhand hardware that you use to write! Remember, I will be including everyone who commented in our contest where winners will receive autographed books from me and our guest authors and also souvenirs from our store!
Until the big contest announcement… HAPPY WRITING! WRITE LIKE YOU MEAN IT!
xoxo
Sincerely,
Paula 🙂