NAPIBOWRIWEE DAY 1 – Meet Lee & Low Books Editor Jessica Echeverria!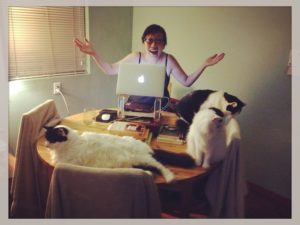 WELCOME TO NAPIBOWRIWEE 2016! This is my eighth annual "National Picture Book Writing Week" event since I started it in 2009.
In 2009, my second picture book biography, SHINING STAR: THE ANNA MAY WONG STORY (illustrated by Lin Wang, LEE & LOW BOOKS 2009) was published. To celebrate its release, and because I had been procrastinating on some picture book ideas, I impulsively decided to promote my book by starting a little event I called "National Picture Book Writing Week." I was inspired by the famous "NaNoWriMo" – National Novel Writing Month event that happens every November where people try to write a 50,000 word novel in 30 days. (For more information on that awesome event, go here: http://nanowrimo.org)
My impulsive idea was to challenge myself to write 7 picture books in 7 days from May 1st to May 7th. I already had several ideas plus some research and outlines done, but I kept procrastinating on actually writing the darn things!
Now, as a working TV writer and already published author, I know that you have to FINISH a draft before you can truly write it. Anyone can start a novel or screenplay or picture book, but very few people can FINISH them.
I also know that you cannot write a picture book in one day. It's possible, but it won't be perfect. 🙂 I definitely know writing and crafting a submission-worthy picture book manuscript can take days, weeks and even YEARS. I am definitely NOT disrespecting the art and craft of picture book writing – this event is just a starting off point on your longer journey to revise your books until they sparkle. 🙂
So my idea for NAPIBOWRIWEE was simply to just kick my butt into gear and stop being lazy! I figured, at the end of the 7 days, I would have 7 really bad but FINISHED drafts of 7 picture books. Surely ONE of them might be somewhat decent and worth revising!
So I invited people to join me on my website on this crazy adventure. To my shock… HUNDREDS of people joined! Even from as far away as Egypt, Hong Kong, France and Australia! In fact, the first year – 2009 – my website crashed! LOL! 🙂 I had no idea my humble fun idea would go viral.
So ever since then, I've been hosting this NAPIBOWRIWEE event! I will admit – I have not been able to write 7 pictures in 7 days every year. There were some years where I crashed and burned and only wrote a couple books. But it was still fun and I loved meeting new friends and being inspired by everyone. So please know that I am human, too!
I should clarify – if you do NOT manage to write 7 picture books in 7 days… DO NOT FEEL BAD! All that matters is that you TRIED. I am happy if you write 7 WORDS in 7 days. LOL! 🙂 It's about writing every day. I hope that can become a new skill for you. As a working professional writer, trust me, I WRITE EVERY DAY. Now, not every day is "real" writing – sometimes it's brainstorming, or doing research. But every day I definitely write at least one paragraph, one page, one chapter, etc. It's like working out – you don't run 4 miles every day. Some days you take a walk. Or you do weights. So I hope that analogy works, too. 🙂
This year, I am working for a Netflix TV series that airs in 2017. (My "day job" is as a TV writer/producer.) Which means I have many script deadlines from May 1-7 in addition to hosting and running this NAPIBOWRIWEE event. So I have no idea if I can get all 7 books done. But I'm going to try! I know many of you are working full time jobs and/or also juggling family duties as well. Plus you range from first-time aspiring writers to veteran published authors. Trust me, we have had many famous veteran published children's book authors participate in this event as a way to kickstart their own engines! 🙂
I was talking to my friend Mindy, also a participant, and I told her that I normally try to have a THEME for NAPIBOWRIWEE. One year, I only worked on non-fiction picture book biographies, which is my specialty. Another year, I tried to write only poetry picture books. Another year, it was 7 cat picture books because I have 3 cats. 🙂
This year, Mindy suggested I try the theme of MUSIC since I also play the violin and music is a huge part of my life. I loved this idea! So I'm going to write 7 picture books with music themes this year!
So I thought I'd mention that to you in case some of you are scared and don't have any ideas yet for what to write. Why not use Day One to think of a theme for this week? You could do early picture books for super young readers, or think of 7 "good night" books (the kinds to make kids go to sleep), or 7 counting or alphabet books, etc.
So that is my main tip for Day One if you're scared of getting stuck.
Now, for some nuts and bolts:
Our guest authors and artists and industry folks have graciously donated autographed copies of their latest books, original prints, and a FREE WRITING CLASS for our NAPIBOWRIWEE participants. In addition, I will be giving autographed copies of my books, too! (For more info, go here: http://paulayoo.com/books/) as well as souvenirs from our store (http://www.cafepress.com/paulayoonapibowriweeclassic)
Our blog schedule for this year is here if you'd like to peek ahead: https://napibowriwee.com/2016/04/29/get-ready-get-set-for-2016s-napibowriwee/
NOTE: If you are available for JODELL SADLER's free writing class that begins July 11, please mention that in the comments so I can keep your name for a separate drawing for that. Joel is the founding agent of Sadler Children's Literary, owner of KidLit College and Pacing Picture Books to WOW.
Please visit my blog on May 8, 2016 (9:00 AM EST/6:00 AM PST) to see who all these prizes! Winners picked at random! Please comment on my blogs to be included in the contest!
And now let's meet our NAPIBOWRIWEE DAY 1 GUEST – LEE & LOW EDITOR JESSICA ECHEVERRIA!
I have had the honor of working with her on my picture book, TWENTY-TWO CENTS: MUHAMMAD YUNUS AND THE VILLAGE BANK (illustrated by Jamel Akib, Lee & Low Books 2014) and on the Dive Into Reading! early emergent reader series featuring "The Confetti Kids" books, LILY'S NEW HOME and WANT TO PLAY?
Jessica answered my Q&A with some insightful answers.  I hope they inspire you on Day One! 🙂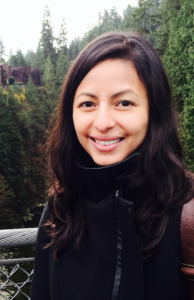 JESSICA ECHEVERRIA BIO
Jessica Echeverria is an editor at LEE & LOW BOOKS, a multicultural children's book publisher. Over the past eight years, she has worked on a variety of different formats including early readers, bilingual books, middle grade fiction, and picture books to name a few. Some recent publications include the 2015 Asian/Pacific American Award Picture Book Winner Juna's Jar, the Charlotte Zolotow Award-Highly Commendable Title The Hula-Hoopin' Queen, and the Social Justice Literature Award Twenty-two Cents: Muhammad Yunus and the Village Bank.
Q&A WITH JESSICA ECHEVERRIA
Q: What drew you to the book business? How did you become an editor? 
A: I loved to read as a kid but aside from the World Book Encyclopedia set, there were very few books in my house. I spent a lot of time at the library. Surrounded by all those books, it never occurred to me that people worked behind the scenes to create them. It wasn't until I was in graduate school, and unsure of my career options, that a friend suggested I go into publishing. My response to this suggestion was, "Is that really a thing?"
I finished school and moved to New York two months later. I applied to every publishing job listed, but couldn't get an interview. Thankfully, through a friend, I met an editor who put me in touch with other young editors of color. She advised me to setup informational interviews and attend different networking events. I must have called everyone on her list, and had a dozen coffees and informal meetings. It took close to two years, but I finally met an executive editor (coincidentally also Ecuadorean!) at an event who agreed to pass along my resume to an HR representative. Initially, I wanted to go into adult publishing, but I was offered a job in children's publishing. I'm so happy it turned out that way! I love working on children's books.
Every day, I'm reminded of my love of books and the joy felt in bringing an armful of books home from the library.
Q: What was the first book you edited? What was the most important thing you learned from that on your journey as an editor?
A: The first book I "edited" was a compilation of backlist titles into one anthology. I spent hours working with the designer on the look of this book; so much so that I missed a glaring typo on the opening page of this "masterpiece." The typo wasn't caught until the book was at the printer. It was a disaster. The lesson learned is to review everything very carefully, and leave other people alone so they can do their jobs.
Q: What were some books that inspired you to get involved in the publishing industry?
A: I never saw my family or myself in the books I read as a young girl. Some people may not realize the impact that has on a child, but it definitely affected me deeply. I was in high school when I finally read The House on Mango Street and How the Garcia Girls Lost Their Accents. They changed my world.
When I saw Lee & Low's job post for an editor position, I jumped at the chance to apply. I wanted to work on books that I wish I had growing up.
Q: What are your favorite children's books, and why?
A: When I was a kid I was obsessed with The Wonderful Wizard of Oz (and the movie). I also loved the books Bridge to Terabithia and Superfudge. I cried so much at the end of Bridge to Terabithia and laughed so hard with Superfudge. The fact that you can feel a range of emotions from just words on a page make books magical.
Most recently, I enjoyed Last Stop on Market Street. I appreciated CJ's observations and interactions with Nana, and the ending had me close to tears. I think one of the most important things to teach children is empathy. I love when a book achieves that without being didactic.
Q: The children's book world is becoming more and more competitive. What is the most important piece of advice you feel an aspiring writer must know in order to succeed? (And anything specific for picture book writers)?
A: Keep at it! I admire writers who balance a full-time job, family life, and still carve out time to write. I don't know how they balance it all, but I'm so glad they do. A writing career is a tough pursuit filled with uncertainty and rejection, but keep at it.
Q: There's been increasing pressure for writers to be active on social media. Are you on social media? If so, where can people reach you? 
A: Has social media helped your agent/editing journey and career? Any advice for writers/clients who might feel overwhelmed by the social media "burden"?
I think I was the last person on earth to join Facebook. I joined after starting my job at Lee & Low. We're a small team here so I wanted to do my part to promote our books and champion our authors and illustrators. Now I also use it to share photos with my family so it's a hodgepodge of book reviews and, "Here's a picture of us eating beignets!"
Authors should do what is most comfortable for them. If they don't understand Twitter then they shouldn't use it. I would recommend having a website. It doesn't have to be fancy, just a simple landing page where fans can read more about them and educators/librarians can potentially contact them for author visits.
######
Thank you again, Jessica, for graciously participating in our 2016 Day One of NAPIBOWRIWEE!
Good luck, everyone! For today's Day One comments, please keep me posted on your progress and if you have any questions. I'd also love to hear if you have a GAME PLAN – are you doing a THEME like me or are you just winging it? Or did you prepare all year and came in armed with ideas and outlines and research already done?
PS. A reminder – I am working full time so I will try my best to reply to everyone's comments. Please be patient. And if for some reason I don't get a chance to reply to your comment, please know it was because I was swamped with my work deadlines but I do read and appreciate everyone's comments! And don't forget to follow me on Twitter @paulayoo for any other updates! 🙂
Now I'm off to try and finish my script deadlines, manage this website and write Book #1! I'll report back with details in tomorrow's blog! Our Day 2 blog will post May 2nd at 9 AM EST/6 AM PST featuring guest author GLENDA ARMAND! 
Until the next blog, remember… HAPPY WRITING! WRITE LIKE YOU MEAN IT! 🙂