NAPIBOWRIWEE DAY 2 – Meet Picture Book Author Glenda Armand!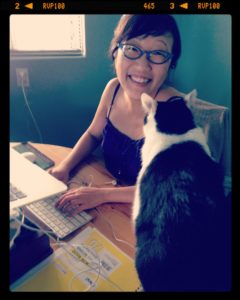 Welcome to DAY TWO of NAPIBOWRIWEE! Wow, I was so impressed by everyone's wonderful comments! Again, I wish I could reply to all of them in a timely manner, but well, I'm kind of juggling a lot. But I promise, I'm reading everything and I have made sure to put everyone's name into the general prize drawing as well as the special writing class drawing as per your requests. I hope to reply to some of your comments from previous blogs, too, once I catch up!
A few more housekeeping issues…
My blogs post daily at 9 AM EST/6 AM PST. I apologize – I accidentally wrote "6 AM EST" and so everyone on the East Coast got confused today for Blog #1. LOL! Sorry! My bad!
To answer folks who asked this – you do NOT need to comment on every single blog if you are busy. As long as you comment ONCE on any blog, you are included in the prize drawing! 🙂
And now, about my crazy day. I had a script due, so I was busy writing that. One of the biggest challenges about screenwriting is to CUT CUT CUT. I tend to write overly-long for the first draft and then cut in the revisions.
But the more I write – both books and scripts – I find myself finally learning how to write shorter in the first place. Honestly, it's just practice. Practice makes perfect!
So once I finished my script, I had time to work on my picture book. And because I was in the "write as short and efficiently as you can" mode, I was totally in massive FOCUS mode and wrote Book #1! Because I'm doing the theme of MUSIC, let's just say it involved music and a cat (because you know me and cats). I kept it SUPER short, like a younger picture book. It was also a poem, because I love poetry, and NAPIBOWRIWEE is my one chance to focus on practicing my poetry chops. And yes, this was a TERRIBLE AWFUL FIRST DRAFT. But I finished it. And I already know exactly how to revise it to make it better when I have more time after our event wraps up!
But then I noticed a lot of people also were commenting and saying "Yeah, this draft is terrible awful! But at least I finished it!"
Which got me thinking… if we FINISHED our first drafts, then that means it was NOT terrible awful. Because SOMETHING WORKED. Something worked in our stories and we were able to get to the end.
So I now take back saying that my Book #1 draft was "TERRIBLE AWFUL." Instead, I think it was TERRIFIC AWESOME. 🙂 And you should feel that way, too, about your drafts! If you wrote "THE END," then something worked!
So for Day Two, don't lose steam. Don't criticize yourself or cringe at what you think might be so-called sub-par writing. If you can write THE END, then you did a TERRIFIC AWESOME FIRST DRAFT. 🙂
Now, on to our second guest! Our guest author for today is the lovely GLENDA ARMAND.  She has graciously donated an autographed copy of her latest book, IRA'S SHAKESPEARE DREAM (by Glenda Armand and illustrated by Floyd Cooper, Lee & Low Books 2015) for our NAPIBOWRIWEE participants.
(I am collecting everyone's names in the COMMENTS section each day and will choose a winner based on a random prize drawing! Please visit my blog on May 8, 2016 (9:00 AM EST/6 AM PST) to see who won her book!)
So without further ado, please welcome GLENDA ARMAND!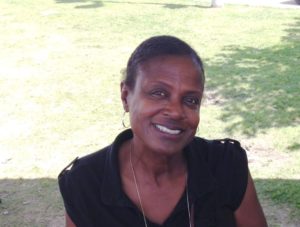 GLENDA ARMAND BIO
Written by Glenda Armand
Born in New Orleans, I was the youngest when my parents moved to Los Angeles with their four children as part of the Great Migration. (My three younger siblings were born in Los Angeles.) My childhood memories are full of wonderful train rides to and from Louisiana to visit relatives. I also enjoyed the summers that we stayed home. Then, our cousins would come to visit us. That  was the only time we got to go to Disneyland and Knott's Berry Farm! (We kept our E-tickets in the top left hand drawer of my parents' bedroom dresser.)
Throughout my childhood, I was a reader. I loved Dr. Seuss and Beverly Cleary. I enjoyed the classics. I was taken with words. My sixth grade teacher had us write our autobiographies. Mine was basically a recitation of my previous teachers. However, I do remember writing, "I've always wanted to be a teacher and that is still what I want to be." I guess I thought it notable that I had reached the ripe old age of twelve and had not changed my mind.
So I became a teacher (and later a school librarian). I loved teaching: I could fulfill my passion for reading and writing. I wrote plays for my students to perform; poems for them to recite. I read them the stories that I loved as a child. Each year I read Charlotte's Web to my second graders. One year, as I tearfully concluded the book, a little boy, knowing that I had read the story to many classes before, was confused by my tears. "Teacher," he asked, "didn't you know Charlotte was gonna die?"
These days, as a divorced mom of two adult children, I write and garden, and work as a substitute teacher. I enjoy substituting. It's teaching without any of the chores (report cards, faculty meetings). It's also like grandparenting as opposed to parenting. I sometimes sub for one of my former students. Her students call me their "grandteacher."
Q&A WITH GLENDA ARMAND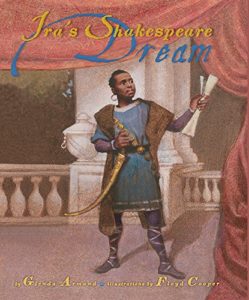 IRA'S SHAKESPEARE DREAM by Glenda Armand and illustrated by Floyd Cooper (Lee & Low Books 2015)
The story of Ira Aldridge, an African American born during the time of slavery, who dreams of becoming a Shakespearean actor. Against all odds, Ira realizes his dream and becomes one of the most famous Shakespearean actors of his time, and the first black actor to play Othello on the English stage.
Q: What inspired you to write picture books?
A: Writing comes naturally through both sides of my family. I have inherited two of the many journals that my maternal grandmother (1897-1995) kept during her long life. She wrote down every day occurrences, birthdays, anniversaries in simple spiral notebooks. She recorded when they first got electricity in their house and when the little country road they lived on got a name (Fig Street). Some days she wrote down memories from long ago.
My father was stationed in the Philippines during World War II. While he was there, he wrote over two hundred letters to his fiancée (my mother). With his 8th grade education, he wrote beautiful prose, full of similes, metaphors, and stream of consciousness. He also wrote letters for his buddies who were illiterate.
I like writing picture books because they introduce children to a person or topic. I hope my books are "appetizers" that make the reader want to know more. Also, the fact that picture books can be read in one sitting makes them ideal for story time and for the reluctant reader.
Q: Do you write in any other genres? If so, what?
A: I have a "drawer full" of rhyming manuscripts. I love writing in verse but such manuscripts are a hard sell!
Q: What is the most challenging part about writing picture books?
A: The word count! I tend to want to write too much. When I am struggling with what to leave out, I dream of writing a novel, and going on and on and on!
Q: Tell us about your first published book – what inspired the idea? 
A: After many years of teaching in the primary grades, I decided to teach eighth grade. In preparing to teach US history, I read The Narrative of the Life of Frederick Douglass, an American Slave. In those pages, I met Harriet Bailey, the mother of Frederick Douglass.
Frederick Douglass writes lovingly and proudly of his mother. When Douglass was too young to work as a slave, he and his mother lived on different farms, twelve miles apart, within the same plantation. In his autobiography, Douglass tells how, on a few precious occasions, his mother would walk the twelve miles to visit him, after she had put in a full day's work in the fields.
About those visits, Douglass wrote, "I was grander upon my mother's knee than a king upon his throne." I was fascinated by his strong feelings in spite of his having spent so little time with his mother; and I was inspired by Harriet's love for her son. I wanted to tell their story. I mentally put the two of them in their master's kitchen (where the visits took place) and then, with pen in hand (literally), I listened in on one of their visits.
I felt Harriet's guiding hand as I wrote Love Twelve Miles Long. The connection that I felt to Harriet was never stronger than when Frederick asked (and I wrote), "Why did God make us slaves?" I decided that I didn't want him to ask that (because I didn't have an answer) so I crossed it out. And then I heard Harriet's voice saying, "Let him ask the question." And I did.
Q: Any interesting details about the road to your first book's publication?
A: I was at the SCBWI Summer Conference in 2006, when I went to a workshop given by Louise May, editor at Lee and Low. I got up the nerve to go up to her after she spoke and told her about a manuscript I was working on. She kindly suggested that I submit it to their New Voices Award committee. I submitted it and it won first prize, which was a publishing contract. I had never heard of this award so I am very glad I waited in line to speak to Louise that day!
Q: If you weren't a writer/artist, what would you be? 
A: I would be what I am: a teacher. I would do the same things I do now: Teach, read, learn, travel, garden, walk, visit. I guess I just wouldn't write about it!
Q: Tell us something about yourself that most people don't know.
A: I competed in the 2002 Los Angeles Marathon. And although I walked all 26.2 miles, I came in first in my category! That category being "black, left-handed, Catholic women over 40." Sure, it's a category that I made up, but that's beside the point. The fact is, I came in first!
Q: If you could give one piece of writing advice for our NaPiBoWriWee participants, what would it be?
A: I think NaPiBoWriWee is a great idea! I have quite a few books rambling around in my head. Some have been wandering in there for years. I get an idea; buy books to research it…and then I move on. Ideally, what I would do during NaPi… Week, is to gather those ideas (and the books I ordered on Amazon) into seven stacks and then, take one stack a day and write an outline for that book. My suggestion to others would be to do something similar.
Q: There's been increasing pressure for writers to be active on social media. Are you on social media? If so, where can your readers reach you? Has social media helped your writing journey and career? Any advice for writers who might feel overwhelmed by the social media "burden"?
A: I am "on" social media if, by "on," you mean, "Do you have accounts?" Recently I have become a little more active. It seems like Twitter is the one that I am most comfortable with (which is not saying much). And, since I started tweeting, I have seen more interest in my books.
I think those of us who don't take to social media naturally, should pick one medium and hang in there! We should use it for the sake of our craft, our careers, and our fellow writers. All of my tweets are book-related. My publisher, Lee and Low, puts much time and effort into promoting my books. I want to show my appreciation by doing my part. So I'll tweet to our mutual success.
Twitter handle: @glendaArmand
Q: There's been a growing demand for more diversity in children's book publishing. What are your thoughts on that, if any?
A: It's ironic that the demand for diversity is growing at a time when there are more diverse voices in children's literature than ever before. There were very few black characters in books when I was growing up.
Today there are publishers that specialize in books written by and about people of color. Still, being "diverse" is not enough. If it were, I'd have about twenty books published (about a quarter of them in verse). However, I believe that, no matter who you are, or where you fit in according to the current definition of diversity, if you write a superb story and send it to the right editor, it will get published.
Just tell your story. No one person is "diverse". Each of us has only one life experience. That's where books come in! We need to hear each other's stories. I want to lose myself in your book. I want to find myself there too. I want my book to show you my world, even as you see in it a reflection of yourself. Each of us is unique and, together, we are diverse.
######
Isn't Glenda Armand TERRIFIC AWESOME? 🙂 I was honestly very moved by her touching bio, and I loved her gentle humor and insight in her answers for our interview. Team Grandteacher! 🙂 Such an honor to have Glenda as a guest author for NAPIBOWRIWEE! For more information on her, please visit her website here:
In the meantime, ironically Monday will be an "easier" day for me because Sunday night was my script deadline! So I will have a little bit more time to work on Book #2! Please note, I was up writing this blog at 2:35 AM LOL to give you an idea of my hectic Day #1! Hopefully no late nights tomorrow! (But don't worry – one year, I think it was 2013, my roof leaked in the middle of NAPIBOWRIWEE so I got NO sleep constantly changing buckets all night while posting blogs. LOL! And yes, that roof leak led to a NAPIBOWRIWEE picture book about a leaky house. See? Silver lining!)
Don't forget, our DAY 3 blog will post May 3rd at 9 AM EST/6 AM PST featuring guest author GWENDOLYN HOOKS! 
Until the next blog, remember… HAPPY WRITING! WRITE LIKE YOU MEAN IT! ?