NAPIBOWRIWEE DAY 3 – Meet Children's Book Author Gwendolyn Hooks!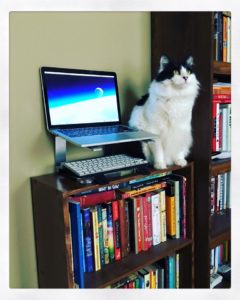 Welcome to DAY 3 of NAPIBOWRIWEE! How's everyone doing? I have to say how impressed I am by everyone's comments. I finally caught up on reading everyone's posts. I was very moved by your enthusiasm, progress reports, and by some very lovely and personal anecdotes. A writer wrote about how the recent passing of her father inspired her to write 7 picture books in 7 days about his life to preserve his legacy. Another writer said her husband had tears in his eyes when she read him her completed Book #1. And one of you referred to the NAPIBOWRIWEE event as "crowdsourcing inspiration." I LOVE that phrase! Thank you everyone, for your wonderful contributions. YOU inspire ME! 🙂
I had an easier day today so I was able to write Book #2. Since music is my theme and I am a professional freelance violinist, I decided to write an orchestra book. BUT… I know there are many famous orchestra picture books already out there, including such classics as MEET THE ORCHESTRA by Ann Hayes & illustrated by Karmen Thompson and THE PHILHARMONIC GETS DRESSED by Karla Kuskin & illustrated by Marc Simont. So I had to ask myself – what is a unique way to write about the orchestra that is different in theme and setting and character than these famous books? Because the same story often gets told from different viewpoints, what could make MY draft different? So that helped me figure out a unique perspective of the orchestra that I thought was a fun and solid idea. I was very happy with it.
Hence my Writing Tip: When you have an idea for a book, google the topic and see if other books are already published on it. If so, ask yourself if your angle on this topic is unique, different and necessary for people to read. If the answers are yes – go for it! Don't let the fact that there's already a published book out there with your same story or subject prevent you from writing YOUR VERSION. You never know!
As for the top photo of my other cat BEETHOVEN – that is sometimes how I write. I like to write standing up at my bookshelf, just like Hemingway did at his bookshelf. I do this for health… we writers can be too sedentary and it's bad for our health. Just check out this article from the Washington Post on the Health Hazards of Sitting:
https://www.washingtonpost.com/apps/g/page/national/the-health-hazards-of-sitting/750/
So here is what I try to do sometimes when I write…
I suggest everyone try writing AND standing today on Day 3. Please make sure your standing station is ergonomically correct (no hunching, no bent wrists)! Let's stand while writing for our health! 🙂
Speaking of health… that fits in with the theme of the latest book by our Day 3 guest author GWENDOLYN HOOKS! She has graciously donated an autographed copy of her new book TINY STITCHES – THE LIFE OF MEDICAL PIONEER VIVIEN THOMAS by Gwendolyn Hooks and illustrated by Colin Bootman (Lee & Low Books 2016) for our NAPIBOWRIWEE participants. I am collecting everyone's names in the COMMENTS section each day and will choose a winner based on a random prize drawing! Please visit my blog on May 8, 2016 (9:00 AM EST/6 AM PST) to see who won her book!
So let's meet the wonderful Gwendolyn Hooks for today's inspiration! 🙂 BTW… today is also Gwendolyn's BIRTHDAY! What a perfect way for her to celebrate with all of us! Let's give her a big NAPIBOWRIWEE HAPPY BIRTHDAY!!!!! 🙂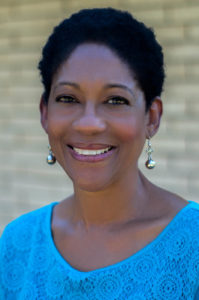 GWENDOLYN HOOKS BIO
Gwendolyn Hooks writes early readers and fiction and nonfiction chapter books. Her latest book Tiny Stitches – The Life of Medical Pioneer Vivien Thomas (Lee & Low 2016) is a picture book biography illustrated by Colin Bootman. Her Leona Mitchell – Opera Star (Oklahoma Heritage Association Publishing/Program of Oklahoma Hall of Fame 2015) is part of the I AM OKLAHOMA series.
Gwendolyn's fiction books feature pets and friends, the two things everyone needs. Gwendolyn's eight book Pet Club Stories (Stone Arch Books/Capstone 2011) combines both.
Constantly stretching her writing skills, she wrote three nonfiction science books about food webs. She has been awarded the Mom's Choice Award for Bobbie's Big Bear Hunt (Red Chair Press) and the SORMAG 2012 Reader's Choice Award. She blogs on The Brown Bookshelf, an American Library Association Great Website for Kids. Gwendolyn also writes for Lee & Low's Confetti Kids book series and has two upcoming books, Block Party and Music Time (2017) illustrated by Shirley Ng-Benitez.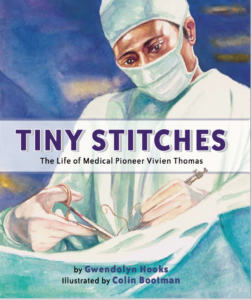 TINY STITCHES – THE LIFE OF MEDICAL PIONEER VIVIEN THOMAS by Gwendolyn Hooks and illustrated by Colin Bootman (Lee & Low Books 2016)
Vivien Thomas dreamed of attending college and studying medicine. But he lost his college savings in the stock market crash of 1929. Instead of college, he found a job at Vanderbilt University Medical School working as a laboratory assistant under Dr. Alfred Blalock. When Dr. Blalock transferred to Johns Hopkins Hospital in Baltimore, Vivien moved with him. Vivien learned surgical techniques and used them to develop a procedure to help children born with the heart defect, tetralogy of Fallot or blue babies. His procedure was used successfully in 1944. Vivien was not acknowledged for his work until decades later. Overcoming racism and resistance from his colleagues, Vivien ushered in a new era of medicine—children's heart surgery. This book is the compelling story of this incredible pioneer in medicine.
EDITED ON MAY 5, 2016 TO ADD: Our Gwendolyn Hooks' book TINY STITCHES just got a STARRED BOOK REVIEW from Booklist! Woo hoo! For more details, go here: http://booklistonline.com/ProductInfo.aspx?pid=8031019&AspxAutoDetectCookieSupport=1
Q&A WITH GWENDOLYN HOOKS
Q: Tell us about your first published book – what inspired the idea? 
A: My first published book was a pre-emergent reader—eight pages and 34 words. I thought about my children when I wrote Can I Have A Pet? (Lee & Low 2002). My kids were always asking for a horse. We were not getting a horse. But when one asked for a cat, I said yes. In the book, a little girl and her mother visit the zoo and the girl asks for every animal they see like lions and tigers. Of course, her mother says no. But like my kids, she learns that if she asks for just the right pet her mother may change her mind. When I received my author copies, my son flipped through it and said, "I don't think this is a book. It hardly has any words on the page. I think it's a poem." I like to remind him that my poem-book is still in print.
Q: Where is the best place for you to write your books?
A: I have an office in my home and I write there, but sometimes, especially when I'm stuck, I will visit one of my favorite coffee shops to write. I think the different environment, people, coffee and food fuels my creative spirit.
Q: If you weren't a writer/artist, what would you be?
A: Before I began writing, I was a middle school math teacher. I love teaching and now I teach a writing class in a senior center. Sometimes I teach in after school programs and at writer workshops. So if I wasn't actively writing, I would be teaching.
Q: If you could give one piece of writing advice for our NaPiBoWriWee participants, what would it be?
A: My advice is learn your craft and never give up. Once I read that to be a successful writer you need two things. One is craft and the other is persistence. I figured persistence is easy, you just don't give up. I could do that. Craft was something I had to learn. So I focused on learning how to write. I still take classes and attend conferences as often as I can.
Q: There's been a growing demand for more diversity in children's book publishing. What are your thoughts on that, if any?
A: At a recent school visit, a girl told her teacher, "I saw the author and she looks like me."  While that is heartwarming, I wish she could expect the author to look like her. It's depressing to read the statistics showing the tiny number of books written by diverse authors. That's one reason my group blog, The Brown Bookshelf, was created. We highlight new African American authors and/or illustrators and celebrate the work of those who have come before us.
Q: There's been increasing pressure for writers to be active on social media. Are you on social media? If so, where can your readers reach you? Has social media helped your writing journey and career? Any advice for writers who might feel overwhelmed by the social media "burden"?
A: I am terrible about social media. Every month I tell myself that I will post something every day. I don't. But I am good at sharing other people's good news. Someone needs to give me advice on how to handle social media. I admire my friends who seem to do it effortlessly.
Twitter: @Gwenthegweat
Facebook: https://www.facebook.com/gwendolyn.hooks.3
Blog: thebrownbookshelf.com
######
Thanks again, Gwendolyn, for being a part of our 2016 NAPIBOWRIWEE! I am part of your Team Craft & Persistence! She's right – you can NEVER stop taking enough writing classes/studying writing books etc. I still take classes and read new books on writing craft issues because we are always learning and growing as writers.
AND HAPPY BIRTHDAY, GWENDOLYN!!!!! 🙂
Good luck to our participants – I wonder who will be the lucky winner of Gwendolyn's book? (BTW I have put all your names from the comments into a hat for the drawing, and those of you who also are available for the writing class drawing have been including in that other hat, too. I can't comment individually on everyone's comments due to my schedule, but I am keeping track of everyone, rest assured!)
So today, remember to STAND AND WRITE for your health. Please make sure your standing station is ergonomically correct (no hunching, no bent wrists!)
A reminder: Our Day 4 blog posts on Wednesday May 4, 2016 at 9 AM EST/6 AM PST. It will feature an interview with guest author/artist SYLVIA LIU as part of her book blog tour (for more info, go here: http://www.kidlit411.com/2016/04/Kidlit411-Author-Sylvia-Liu-Blog-Tour.html)
Until tomorrow, as always… HAPPY WRITING! WRITE LIKE YOU MEAN IT! 🙂