2017 NAPIBOWRIWEE DAY FIVE – GUEST AUTHOR Q&A WITH EMMA OTHEGUY! (May 5, 2017)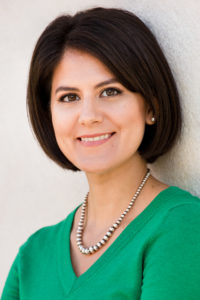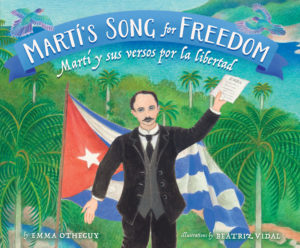 PAULA'S 2017 NAPIBOWRIWEE DAY FOUR RECAP (May 4, 2017)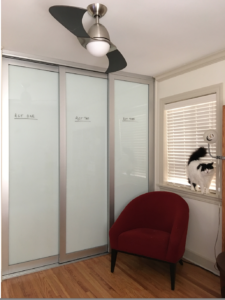 Hi! How are you guys doing? Can you believe it's Day 5? Right around now is where the burnout and exhaustion happens! 😛 But look on the bright side – it's the weekend! For 2017, we lucked out and Day 1 began on a Monday and Day 7 will end on a Sunday, so the final push of the last three days at least happens over the weekend, where hopefully many of you will have extra time to write!
Above is a picture of my teeny tiny writing office at home. We recently renovated this room with a new closet and hardwood floors. Our contractor suggested frosted glass sliding doors for the closet because he knows I'm a writer and thought it would work as a good dry-erase board for me! As a screenwriter, we tend to use index cards and white boards to write the main story beats of Acts 1, 2, 3 etc. of our TV shows and movies. So my contractor suggested I could use my actual closet doors as a "whiteboard"! Genius idea!
So part of my writing process is using dry-erase markers and figuring out the story beats and cliffhangers and emotional character journey points for Acts 1, 2 and 3 (i.e. the Beginning, Middle and End). So for Day 4, I got home early and was able to do some outlining of my Picture Book #4 on this "whiteboard." (Beethoven the cat helped me. LOL!)
For Day 4, I had already done a TON of research last year on a new middle grade novel that is set in a small farming town in Central California. I'm very excited to start working on this. But because I have NAPIBOWRIWEE on my mind, I thought – "Wait… there's a small slice of this story that could make for a great non-fiction picture book set in this area." So because I already had done all my research last year, I just read through my notes and came up with a story idea and "beat" the plot points out on my "whiteboard" closet.
I then wrote another TERRIBLE VOMIT FIRST DRAFT. LOL. But now I have another possible candidate for a future picture book biography. Worst case scenario isn't bad either – if this book doesn't work out, at least I have some story plot points I can incorporate into the middle grade novel.
This is another lesson I learned in NAPIBOWRIWEE – Waste not, want not! In other words, even if you write a terrible rough draft of a picture book that will never, ever get published and will always remain a terrible rough draft… sometimes that draft can be used later for a different book. It is amazing what you can cut and paste from "failed" drafts stuck in the desk drawer in another book project.
In addition, while I was working on Book No. 4, I was doing some extra Googling about this area and just accidentally stumbled upon an article that had NOTHING to do with my picture book. But the article was so fascinating that I found myself going down a rabbit hole of googling more articles about that same topic. And then ANOTHER idea formed in my head.
So for Friday Day 5, I will continue researching this newly discovered idea and see if I can cobble together a SUPER ROUGH DRAFT. I'm kind of excited. I was NOT expecting to stumble on an extra idea today!
Once again, more evidence as to why this crazy event is worth doing every year – you NEVER know what might happen! 🙂
Well, now it's time for us to meet today's Guest Author, the Excellent Emma Otheguy! 🙂
######
DAY 5 – GUEST AUTHOR Q&A WITH EMMA OTHEGUY
BIO: Emma Otheguy is the author of the bilingual picture book Martí's Song for Freedom (Lee & Low, 2017) about poet and Cuban national hero José Martí, as well as the forthcoming Pope Francis: Builder of Bridges (Bloomsbury, 2018). Her short story for children "Fairies in Town" was awarded Magazine Merit Honors by SCBWI, and her scholarly article "Sermonizing in New York: The Children's Magazines of Mary Mapes Dodge and José Martí" appeared in Ethics in Children's Literature (Ashgate, 2014). Emma is a Ph.D. candidate in History at New York University, focusing on Spain and colonial Latin America.
PUBLICATION INFO: Martí's Song for Freedom will be published by Lee & Low Books in July 2017. This bilingual biography tells the story of José Martí and his dedication to the promotion of liberty, the abolition of slavery, political independence for Cuba, and intellectual freedom. This book is written in verse with excerpts from Martí's seminal work, Versos sencillos. 
EXTRA INFO ABOUT EMMA'S BOOK – SPECIAL SOUVENIRS! – Emma is sending some great activity kits to those who pre-order her book! All you have to do is…
Pre-order her book from ANY store
Upload a copy of your receipt to this form link here (http://emmaotheguy.com/activity-kit-for-martis-song-for-freedom/)
And then Emma will mail you activity sheets, stickers, and a signed bookplate!
Here's the full url for the form in case you need it separately: http://emmaotheguy.com/activity-kit-for-martis-song-for-freedom/
Q&A INTERVIEW WITH EMMA OTHEGUY
– Tell us about your first published book – what inspired the idea?
I don't remember a time when I didn't know about José Martí. My parents are Cuban, and so my childhood was filled with Martí: we read his children's stories, such as Los zapaticos de rosa, and listened to Celiz Cruz singing "Guantanamera" with words from Martí's Versos sencillos. My father grew white roses in our yard and taught my sister and I to recite "Cultivo una rosa blanca."
I wanted to write this book from the moment I found out that Martí had visited the Catskill Mountains. I only discovered this detail as an adult, when I was working in upstate New York, in the Hudson Valley. Learning that Martí, too, had spent time in the region, and even been inspired to write his famous poems Versos sencillos in the Catskills, gave me a sense of belonging and helped me bridge the distance between my Latino family and the wider world.
– How long did it take to write (for artists – or illustrate & write)?
I started writing Martí's Song for Freedom over five years before its publication date!
– Any fun or interesting details about the road to your first book's publication?
I benefitted from the Comadres para las Americas community. I met my editor, Jessica Echeverria, at the National Latino Writers Conference, organized by the Comadres. Jessica and I didn't start working together until much later, but our in-person critique helped me develop the manuscript before submitting it to Jessica.
– Where is the best place for you to write your books?
I prefer to write at the library where it's quiet and there are few distractions, but  I end up writing everywhere: in my apartment, on the subway, in the park, or on planes.  I have a busy schedule with work, graduate school, and writing, so I have to be flexible with my writing routines.
– There's been increasing pressure for writers to be active on social media. Are you on social media? If so, where can your readers reach you? Has social media helped your writing journey and career? Any advice for writers who might feel overwhelmed by the social media "burden"?
I'm on Facebook, Twitter, and Instagram (@EmmaOtheguy). It helps me to approach social media as an opportunity to build community and celebrate book culture. It's wonderful to see how many book lovers are out there! (Emma's website is here: http://emmaotheguy.com)
######
Thank you very much Emma for your awesome answers! And extra thanks for your gracious donation of a signed copy of your book for our contest! Winners will be announced May 8, 2017. (Note: To participate in the contest, all you have to do is post at least one comment on my blog and I'll include you in the drawing!)
I hope everyone has a wonderful Day 5 of writing. Hang in there! We're almost done. Just a few more books left to write! I know you can do it! Please remember to post your comments on your progress/experience here! I am LOVING everyone's comments on the blogs, in Facebook and on Twitter. Again, because this event took place during a very busy week of work, I haven't been able to respond individually enough. I hope to catch up over the weekend.
As for my Day 5 Question… since we are at the burnout exhaustion phase, I'm curious… do you prefer writing in the morning, afternoon, or night? I am NOT a morning person so I prefer writing at night. I'm definitely a night owl. Although I will admit that lately… my favorite time to write is in the afternoon. But it's rare that I get to do that because of work, so most of my writing time is late at night. I envy morning people – I would love to be able to wake up early and write so I can then get on with the rest of my day! 🙂
And stay tuned for our Q&A with guest author Awesome ANDREA J. LONEY tomorrow May 6, 2017 (will post at 9 AM EST/6 AM PST)! Until then, HAPPY WRITING! WRITE LIKE YOU MEAN IT!