2019 NAPIBOWRIWEE DAY 1 – Meet Guest Author Pat Zietlow Miller!
WELCOME TO DAY 1 OF THE 2019 NATIONAL PICTURE BOOK WRITING WEEK WITH GUEST AUTHOR PAT ZIETLOW MILLER!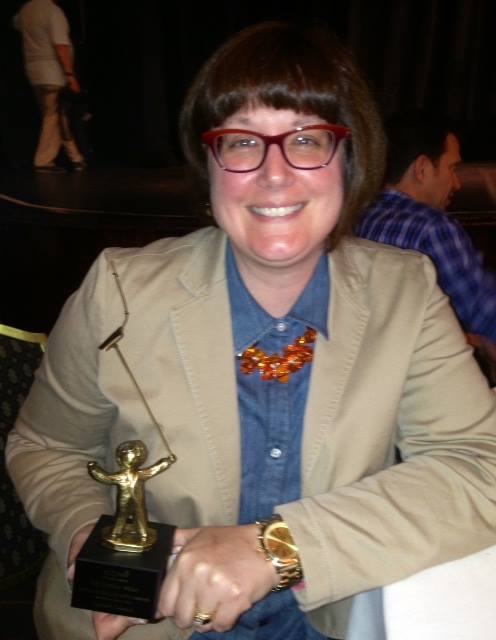 We're baaaack! Welcome to my annual NAPIBOWRIWEE – National Picture Book Writing Week! I started this event on May 1, 2009. We are now in our 11th year of this event that I started for fun. We've had people from all over the country and the world join the fun! (We have had participants from as far away as Australia, France, Japan, and Egypt!)
I have also noticed a lot of new people joining for the first time. Welcome! A quick refresher about our "rules" – the rules are simple. All you have to do is write 7 picture books in 7 days. LOL. Easy, right? 🙂 (For all official "rules," go here: https://napibowriwee.com/about/)
Basically this event was created as a way to inspire myself and others to avoid procrastination by writing on a daily basis. We sometimes get so bogged down with research, brainstorming, outlining etc. that when it comes to actually writing… AND FINISHING… a first draft that we get stuck. And scared. And frustrated.
So my event was to encourage people to write every day. Don't be afraid by grammar mistakes, cliched dialogue, and rough prose. Just WRITE.
Oh, and also… just FINISH.
So many of us have amazing works-in-progress with amazing opening pages but then we never FINISH those drafts. So those drafts just sit there, useless.
This event is to encourage everyone to COMPLETE at least one full draft of a picture book this week. The fun part is to try and complete 7 whole picture books in 7 days. Which is almost impossible. But it's fun to try!
Now what happens IF you finish 7 picture books in 7 days? Congrats! You now have 7 rough drafts to choose from – which one will you go back and revise and polish to perfection?
What happens if you only finish 1 picture book in 7 days? Congrats! You STILL have at least one rough draft to revise and polish to perfection!
What happens if you don't finish anything in 7 days? Congrats! You TRIED! You stuck with us for 7 days and read the blog interviews and commented and were inspired! And maybe you even got a partial draft written. That's better than nothing! Now you just have to keep going! 🙂
I'll be honest. I don't always complete 7 picture books in 7 days at this event anymore. Mainly because I run it. LOL! 🙂 Plus some years are busier than others with jobs and my own book deadlines.
This may be one of those years where I may not complete all 7 because I've got a huge book deadline coming up. For more info on my latest book, check out this link! https://www.publishersweekly.com/pw/by-topic/childrens/childrens-industry-news/article/77171-rights-report-week-of-june-4-2018.html
We also have family visiting and staying with us for most of NAPIBOWRIWEE. Plus as a TV writer/producer, I still have meetings and work to attend as well.
BUT… I still plan to try and write 7 picture books in 7 days. This year, I decided to return to my cats. I have three cats – Oreo, Beethoven & Charlotte. (You can follow Oreo here on Twitter: https://twitter.com/oreothecatyoo) And the only picture books I write are serious literary children's non-fiction book biographies. (For more on my books: https://paulayoo.com/books/)
I have always, however, wanted to have my first FICTION picture book published. That hasn't happened yet. AND I love my cats. I love them very much. I also love those adorable sweet beautiful short poetry picture books about animals. So I decided – since my book deadline is a very heavy and serious YA narrative non-fiction novel-length book, I will focus on trying to write 7 fiction picture book poems in 7 days about my cats. 🙂 I've done this before and although previous books were TERRIBLE, it was still fun and a good way to practice the craft of fiction picture book writing and poetry.
So that's my writing goal this week.
What's your writing goal for this event? Do you have a plan? Or are you just going to wing it and see what inspires you every day? I'm curious to hear what people are hoping to accomplish this week. Please post your comments in today's blog!
So every day, I will post a blog by 6 AM PST (9 AM EST). The blog will open with a few thoughts from me about my progress each day, followed by an interview with one of our guest authors.
We also have our contest – winners will be picked at random to win fun prizes from our store and signed copies of our guests' books! Winners will be announced on May 8, 2019. To be eligible for the drawing, you must post at least one comment this week on my blog!
And if you want souvenirs, here's the link to our store! http://www.cafepress.com/paulayoonapibowriweeclassic
Here is the schedule for our Guest Author Q&As:
DAY 1 – MAY 1, 2019: Pat Zietlow Miller
DAY 2 – MAY 2, 2019: Alice Faye Duncan
DAY 3 – May 3, 2019: Deborah Underwood
DAY 4 – MAY 4, 2019: Curtis Manley
DAY 5 – MAY 5, 2019: Nancy Day
DAY 6 – MAY 6, 2019: David Zeltser
DAY 7 – MAY 7, 2019: Andrea Wang
DAY 8 – MAY 8, 2019: Contest Winners announced
DAY 9 – MAY 9, 2019: Wrap up and announcement for next year's 2020 NAPIBOWRIWEE event
Finally, if you have any questions, most of them are probably already answered here in our ABOUT section about this event: https://napibowriwee.com/about/
Now on to our Guest Author! To inspire you, below is a bio and information about PAT ZIETLOW MILLER and her books, plus an in-depth Q&A with her. Thank you Pat for inspiring us on Day 1!
######
DAY 1 – GUEST AUTHOR Q&A WITH PAT ZIETLOW MILLER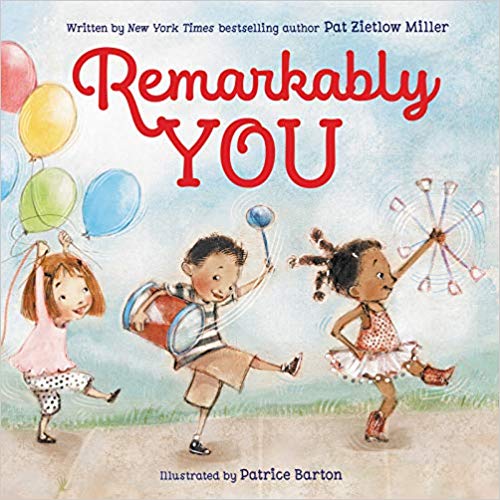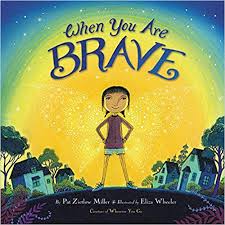 BIO: Pat Zietlow Miller has sold 17 picture books – 10 of which are available now. BE KIND (illustrated by Jen Hill) was on the New York Times bestseller list for nine weeks, and SOPHIE'S SQUASH (illustrated by Anne Wilsdorf) won a Charlotte Zolotow Honor, an Ezra Jack Keats New Writer Honor and a Golden Kite Award. Pat's most recent books are REMARKABLY YOU (illustrated by Patrice Barton) and WHEN YOU ARE BRAVE (illustrated by Eliza Wheeler).
Q&A WITH PAT ZIETLOW MILLER
What inspired you to write picture books?
Sometimes, something just feels right. And, I've always felt that way about picture books. I read them in grade school, and high school, and college, and when I was in my 20s and 30s. You'd think I would have figured out that I should be writing them earlier, but I was a little slow on the uptake.
I wrote a draft of a picture book when I was 19, sent it to one publisher, got a form rejection and stopped trying for the next 20 years. Like I said, I was slow on the uptake. When I turned 39, I decided it was time to take my interest seriously. Four years and 126 rejections later, I sold my first book, and I've sold 16 more since then. Picture books still feel right to me.
Do you write in any other genres?
I'm pondering trying to write a middle grade verse novel. I'm trying to think of it as a series of picture books so it doesn't seem so daunting.
What do you like most about picture book writing versus other genres?
I love picture book writing because you have to tell a full, compelling story in as few words as possible. It's a great mental challenge, and when you do it properly, the results are breath-taking.
Picture book writing is an art form with a very specific structure that I love working within. It's like verbal Sudoku. All your words have to line up in just the right way and be in just the right spot for the puzzle to work. If just one's out of place, the whole book is thrown off and you have to go back and figure out why.
What is the most challenging part about writing picture books?
See my answer above. Everything I adore about picture books is also what makes them challenging.
Tell us about your recent books. What inspired the idea for the books?
I had two picture books that came out earlier this year:
REMARKABLY YOU, illustrated by Patrice Barton, is about owning and celebrating all the things that make you special, interesting, unique or noteworthy. Whatever makes you, YOU. I wrote this book because we don't always recognize all the ways kids are great. We tend to focus on fixing what we think needs improving. Or, we reward certain skills like being good at music or sports, but ignore quieter or quirkier gifts.
WHEN YOU ARE BRAVE, illustrated by Eliza Wheeler, is about – in Harry Potter terms – conjuring your own personal patronus. It's about accessing your inner courage and using it when life seems just a bit too hard. I wrote this book because I was thinking about all the sort-of scary things adults expect kids to do – get a haircut for the first time, get on the bus to a new school or jump into the deep end of a pool. Some kids do those things without a second thought, but other kids find them very difficult. This is the book I needed when I was a kid.
Do you have a favorite picture book? If so, which one is it and why?
I have so many favorite picture books. I'm leaving a ton out, but these speak to me:
THE TENTH GOOD THING ABOUT BARNEY – or anything else by Judith Viorst. She's my picture book author inspiration. Everything she does is perfect.
ZOMBIE IN LOVE – by Kelly DiPucchio. It's beautifully structured and hilarious and has a great voice. I use it all the time as an example of how to write a great picture book. (NOTE FROM PAULA: Kelly DiPucchio has been a Guest Author during previous NAPIBOWRIWEE events. Please search for her Q&A's in our blog & archive sections!)
THERE MIGHT BE LOBSTERS by Carolyn Crimi. Great story with a wonderful, universally relatable moment and lots of heart. (NOTE FROM PAULA: Carolyn Crimi has been a Guest Author during previous NAPIBOWRIWEE events. Please search for her Q&A's in our blog & archive sections!)
LIBRARY LION by Michelle Knudsen. It breaks practically every standard picture book "rule," and that's OK. Because the story and the writing are that awesome.
Where is the best place for you to write your books or to do your illustrations?
In my kitchen, surrounded by dishes and debris and bills and laundry. It's not impressive, but it works.
Tell us something about yourself that most people don't know.
I have a full-time job as an editor at an insurance company. So, I know more than most people when it comes to whole vs. term life insurance, umbrella policies and uninsured motorist coverage. My job has made me smarter, but writing picture books is more fun.
If you could give one piece of advice for our NaPiBoWriWee participants, what would it be?
Realize that you aren't going to be instantaneously awesome. No one would think that they could fiddle around on a piano for a few months and then play a piece well enough to sell out Carnegie Hall, but a lot of people think that if they write down a story and tweak it a bit, it will be good enough to be professionally published and sold for $17.99 in bookstores nationwide.
You have to put in just as much practice and work to be a professional writer as you do to be a professional musician. There are skills and techniques you have to master and hours and hours of practice to put in until you can do them effortlessly.
There's been a growing demand for more diversity in children's book publishing for women and people of color either as book subjects/stories/characters or for diverse writers/illustrators. What are your thoughts on that, if any?
I think it's long overdue. I think any author or illustrator should make sure their books depict the kids who actually are in classrooms across the country. Not just the kids they remember from their childhood or the kids in their own local school district.
When I did my first book tour, I saw the kids I was writing for and it changed how I write my books. I wrote about my experiences in a blog post.
There's been increasing pressure for writers to be active on social media. Are you on social media? If so, where can your readers reach you? Has social media helped your writing journey and career? Any advice for writers who might feel overwhelmed by the social media "burden"?
I am a big fan of social media. I think it's fun. I enjoy posting things and interacting with others online. I've met people I truly like and respect, and I've been introduced to books I might otherwise have missed.
But I know not everyone likes social media or feels comfortable using it. I think it works for me because I don't try to be someone I'm not online. In real life, I like books, reading, writing, cats, chocolate, my kids and the AP Stylebook. (Maybe in that order. Or, maybe not. You decide.) If you look at my social media posts, I post about books, reading, writing, cats, chocolate, my kids and the AP Stylebook.
If you're cautious, a good way to get started is to post about books by other authors that you like. Tag the author and illustrator in the post and they'll likely follow you back. You'll make online friends, share your love of books and earn some good karma points with no risk to you.
I think I'm better known in the kidlit community because I'm on social media. When I attended the National Council of Teachers of English conference last year, I posted a picture of the orange shoes I was wearing on Twitter. Several people saw that post and then saw my shoes at the conference and introduced themselves. It made meeting people easier for an introvert like me.
Here's where you can find me online.
Website – www.patzietlowmiller.com
Twitter — https://twitter.com/PatZMiller
Facebook — https://www.facebook.com/pat.z.miller
Instagram — https://www.instagram.com/patzmill/
Blog – https://www.picturebookbuilders.com
LinkedIn — https://www.linkedin.com/in/pat-zietlow-miller-08496a7/
######
Thank you Pat Zietlow Miller for taking time to answer our questions. I love your phrase "Verbal Sudoku" when describing how to write picture book texts! Everyone, let's think of that puzzle game as we work on our writing today! And remember, you can find out more about Pat and her books here: www.patzietlowmiller.com
Pat will graciously give away an autographed copies of her books, REMARKABLY YOU and WHEN YOU ARE BRAVE to our lucky winners in our annual drawing contest! (Winners are chosen at random). Winners will be announced on our May 8, 2019 blog, so stay tuned!
Okay, I'm off to write. Good luck everyone on DAY 1! Please post your comments below about your first day progress! You can also tweet and post on our Facebook group and follow me (@paulayoo) on Twitter & Instagram!
As always, remember… HAPPY WRITING! WRITE LIKE YOU MEAN IT!